5 Kimberley Gorges to See Before You Die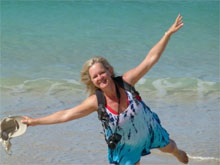 The Kimberley, perched in the northwest of Australia's remotest state is a magical place.
1.7 times bigger than the UK, the Kimberley is a massive area and not always the dry, brown and dusty region you might imagine because after the rains this part of the outback becomes a lush and sometimes tropical wonderland of soaring cliffs, massive gorges, palm trees and spectacular waterfalls.
And yes, some of the gravel roads really are red.
The Kimberley gorges though are multi-coloured and many are accessed from the legendary Gibb River Road, which was originally built for road trains transporting cattle from isolated stations to the ports of Derby and Wyndham.
Today it's one of the last great adventure routes in Australia.
Expect over 600 kilometers (372 miles) of dusty roads with furrowed corrugations. Anticipate water crossings.
Best Time to Visit the Kimberley Gorges
Drive there from about April, after the wet season when the creek levels have dropped, until November, just before the rains descend again.
Is it best to take a guided tour or travel alone?
You can go it alone, or you can book a tour which requires less planning and will often cost about the same, or in some cases less.
I travelled with Adventure Wild on a 12 day adventure along the Gibb River Road and the Great Northern Highway in a return loop from Broome to Kununurra and enjoyed not only the social aspect of travelling with others, but also the fact that we had an experienced driver and a knowledgeable guide on board to show us the sights.
For me, five gorges in particular blew my mind, and I wish everyone could have the chance to see them just once in their lives.
5 Best Kimberley Gorges and Things to See and Do (or Not Do!)
1. Windjana Gorge
Windjana Gorge is accessed from the Gibb River Road and is part of the Napier Range in the Devonian Reef System.
The first really gob-smacking fact about it is that it's about 250 million years old. Apart from that its sheer size takes your breath away and the cliffs seem to glow in multicolour; red, orange, white and green.
After a 1km walk from the camp site along an easy path you'll be in the midst of the ragged topped gorge, which is about 3.5km long and has been carved through an ancient limestone reef.
Freshwater crocs are abundant
There's a deep pool of water formed by the Lennard River, but although it looks tempting don't take a swim because a large number of fresh water crocs are resident here. You might see them sunning themselves on the rocks.
2. Mannings Gorge
Mannings Gorge is a bit of a hike from the campground and you'll need a permit from Mt Barnett Roadhouse.
First you have to cross a river which can be deep and wide so you'll need to swim.
"How are we going to get our cameras across?" I asked our Adventure Wild tour guide.

"See those styrofoam floaty things, like eskies?" (Editor's note: Eskie is an Aussie term for icebox.)

"Yes."

"And that old lilo?"

"Yes."

"There's your answer!"
After the river crossing the terrain to the gorge is quite rocky but the path is well marked with rock cairns, painted arrows, and various items strung in trees. It's a little up and down, but not difficult as long as you don't do it in the heat of the day.
We enter the gorge opposite the main falls which are cascading over the full width of the rock face,an awesome spectacle, and apart from a couple of other hikers we have the place all to ourselves. Everyone peels off their clothes and jumps in off the rocks. With effort some of us swim behind the thundering falls and look at the outside world from a different watery view entirely.
Natural Bliss! And for me, time to think about what's really important in life.
3. Cathedral Gorge
Cathedral Gorge is nestled amidst the 360 million years old Bungle Bungle Range in the Purnululu National Park about 250kms south of Kununurra.
Despite being ancient, The Bungle Bungles were only opened as a tourist destination in 1983 and the park is quite difficult to access.
Massive beehive like formations
Pods of enormous striped sandstone domes resembling huge beehives are striped with orange and grey bands. Best seen from a helicopter, they are weird and wonderful and very big.
We walked along creek beds with pools of water in which the red rock reflects a subterranean world in mirror image and the feeling of being a long way from anywhere remotely habitable is never far from mind.
I felt infinitely privileged to be here in this sacred place – a place to dream and wonder.
It's a 3km return walk to Cathedral Gorge, from the spinifex covered sand plains around Piccaninny Creek car park, along a reasonably easy well marked track with a couple of sleep slopes and narrow ledges.
There are potholes beneath us and looming russet cliffs above us, some are around 200 metres high and glow red as if wounded by their years.
A spiritual experience.
Cathedral Gorge itself is like a huge indoor amphitheatre with brilliant acoustics and a reverential feel to it, hence the name. To sit here and ponder the meaning of life is something everyone should have the chance to do once in their lives.
4. Emma Gorge
On the south-eastern aspect of the Cockburn Range on El Questro Station is Emma Gorge.
From the car park we walked for about an hour through palms, rocks and beneath steep escarpments. There are small pools and mini waterfalls along the way. It's very pretty.
Another World
Approaching Emma Falls is like entering a land of myth and legend.
As you climb the hill the thundering water becomes audible from a distance. Then you see the gorge which supports a massive hanging garden; aquatic plants and jade green ferns are suspended from sheer cliff faces along with gnarled dangly tree roots that look like forgotten climbing ropes.
If the scenery doesn't take your breath away, the waterfall will. It cascades from a dizzy height (the surrounding cliffs rise to 65m) into the rock pool below, where it splatters, slicing the surface of the water into tiny shards of silver that dance like diamonds.
Swim here in the crystal water, and you'll be entranced for a very long time.
5. Galvans Gorge
This gorge is easily accessible from the Gibb River Road. It's not far from Mount Barnett Roadhouse and is approached via a short walk along a lily clad creek.
Shaped like a horseshoe the gorge has a picturesque waterfall that falls about 20m into a postcard perfect circular pool. Around the pool are ancient Aboriginal rock paintings, and trees jut out over the water making it a veritable playground for the adventurous to jump and swim.
The air feels pure, the water is clear, birdsong is abundant and the feeling of total serenity is hard to beat.
Ahhh, The Kimberley a place to dream or to just kick back. A place where the gorges are gorge-ous.
If you asked me … I'd go back tomorrow.
Travel Tips For the Kimberley Gorges

4WD is recommended along the Gibb River Road.
Consider travelling with an overland tour company like Adventure Wild if you have limited time available and want to see a lot without spending a fortune or having to change your own tyres!
Don't forget to pack mosquito repellent.
Freshwater crocs at Windjana Gorge should be avoided, although they are not as dangerous as 'Salties'. However, be crocodile aware at all waterways in the Kimberley.
Mount Barnett Roadhouse on Mount Barnett Station is about half way along the Gibb River Road. You need to pay an entrance fee for Manning Gorge here (it's about 7kms further on). Tel: (08) 9191 7007
Emma Gorge is on El Questro Station. Park permit is $20 a day. Tel: 1300 863 248 or +613 9426 7550.
Driving yourself into Purnululu National Park is not recommended. For more information about Cathedral Gorge and the Bungle Bungles contact a tour company or Kununurra Visitor Centre Tel: 08 9168 1177.
Editor's Note: Guest post and photos by Johanna Castro
Johanna Castro is a freelance writer who's lived in 11 different countries and visited many more. She currently lives in Western Australia and writes a Travel & Lifestyle Blog called Zigazag helping you to Discover, Plan & Share your next Australian adventure.
What travel hot spots do you want to see before you die?!
Share This Story, Choose Your Platform!