Is it So Wrong to 'Go Native'?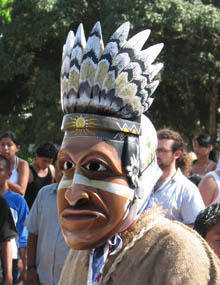 The term 'gone native' tends to be used in a negative way by travelers or expats to explain what they see as strange or embarrassing behaviour by another traveller or expat.
You'll meet many types of traveler when you hit the road but the traveler who's 'gone native' is the person wearing local garb, eating from street stalls and hanging out with locals all the time. Maybe they're even hedonic refugees who've traveled somewhere and decided not to go home. Ever.
Maybe (shock, horror!) they've even married a local, practically forgotten how to speak their own language and don't seem to want to hang around in touristy areas.
In his book The Geography of Bliss, Eric Weiner defines the expression going native as:
"the term used to describe foreign correspondents, diplomats and other expatriates who fall in love with a place so fully they cross the line between what anthropologists call a "participant-observer" and become simply a participant. They speak the local language, get the local humour. They wear the local dress. In some cases they develop immunities to local microbes."
The Geography of Bliss, Eric Weiner (p. 252)
I've gone native many a time. It's not a choice you make, it just happens when you travel overseas and stay somewhere for a long time. Although I'd never really fit in with the locals in some of the places I've lived such as Zimbabwe, Laos or even the relatively westernised Costa Rica, I've certainly tried.
A few years ago I wrote about going native saying:
"I've committed this travel faux pas many times wearing a traditional sinh (woven silk skirt) in Laos most days when I was working there… That wasn't an isolated incident either – check out the photo me in local Indian garb in Why do People Love to Travel?"
Not that the local women dressed anything like I did.
But why do we have to feel guilty about 'going native'? Isn't it a good thing? Something we travelers should aspire to.
I urge you to travel far and wide, to eat local food and adopt local customs and traditions. Heck, if it's comfy and climate-friendly go for it, wear the local garb for all I care.
On many occasions I haven't just lived like a local I've lived with locals.
Many times, although I knew that I wasn't destined to live in those countries forever, I learned to live with other peoples' customs and respect them, even if I didn't accept them personally.
I learned to get used to being different because we are all unique.
I learned that, although we're all different, we all want the same things in life and we all deserve to be healthy, happy and loved.
'Gone native' is often said with a sneer and an eye roll. It holds so many negative connotations but it really should be positive term.
Experiment, have fun and go native on your travels if you feel like it. I won't mind. After all, when in Rome…
What do you think? Is it bad to go native or a good thing?
Like this post?
Then I'd love if you share it by email, on Twitter, Facebook, Pinterest or any of your hangouts. And why not subscribe now to get free updates by email or by RSS feed.
Share This Story, Choose Your Platform!