How to Really Get What You Want in Life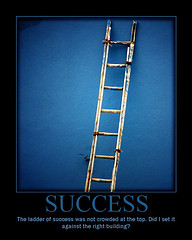 Guest post by Onibalusi Bamidele
Life is sweet if we can work out how to get what we really want out of it. Even though it's not possible to understand everything in life, you can still harness its power to your own advantage.
Many people are unable to get what they want from life not because they can't, but because they haven't realized the true power they have to really get what they want – their dream house, car, or anything they hope for.
This isn't hype. I want to give you practical tips that worked for me. I've used the principles here to get several things, even when it seemed almost impossible to get what I wanted.
5 Ways to Get What You Want in Life
1. Know What You Want
It's dangerous to be uncertain about what you want because it makes it difficult for you to get it. This is the number one mistake many people make. One of the first and most important steps to getting anything you want is having a crystal clear understanding of what it is.
If you want to buy a house, be clear about it, don't say you want to buy a house today and then say you want to rent a house tomorrow. Getting what you want has a lot to do with your mindset, and there's no way you can focus on getting something without knowing what you truly want.
Know what you want, focus on one thing and one thing only.
2. Believe You Can Get It
According to Napoleon Hill's "The Secret", scientists have discovered that every single human thought affects the universe.
Knowing what you want is one thing, believing you can get it is another thing. There is no point in you wanting to get something if you don't believe it's possible. The word "impossible" has limited some people, and is the reason they'll never get what they want.
One key principle to building up your self belief is by making sure you don't think about how long it will take or how hard it will be to achieve your goal.
3. Find Out What It Takes to Get It
Knowing what it takes will help you make sure you're up for the challenge. If you say you want to be the President of the United States you can't just sit around and expect results to come by themselves.
But if you work hard, know what it takes, and give what it takes, you'll be amazed at the results.
4. Be Dedicated Towards Getting It
This is another crucial step to getting what you want. Many people say they want something but don't take action, apply themselves and persevere.
You have to focus longterm and put things in place towards achieving your dreams. Don't wait to win the lottery before you get the life you want, start contributing towards achieving your dreams now in any way you can to actually make them happen.
Luck only favors those who've given their best. You can't be idle and at the same time expect success to come.
5. Feel As if You Already Have It
This is a very powerful, yet underestimated key to getting your desire. If you dream of being a millionaire start thinking like a millionaire and behave like a millionaire. Your thoughts and behaviours will affect how your life turns out.
Change your thoughts, change your mindset, and believe you can! Think like you already have what you want and skyrocket yourself to new heights of success.
No matter what your hearts desire is you can get it if you adjust your mentality, keep a firm belief, and maintain a clear focus. The mind can bring about great things, and being dedicated and hardworking makes everything easier.
Onibalusi Bamidele is a young entrepreneur living the internet lifestyle. You can subscribe to his blog for more great tips.
Share This Story, Choose Your Platform!