How to Manage and Maximise Your Money When Traveling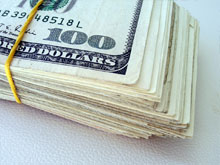 Life's complicated, but not as complicated as working out the best way to manage your money while you're traveling.
When we moved from New Zealand to Panama, then ended up living in Costa Rica and finally Australia, there was a lot of money changing going on. We're talking four different currencies right there. But we also traveled round Nicaragua and Guatemala, so as well as dealing with New Zealand dollars, US dollars, Costa Rican colones and Australian dollars we also spent quetzals in Guatemala and córdobas in Nicaragua.
I told you it was complicated.
Fortunately the Mucho Man is a bit of a whizz when it comes to all things financial and he worked out the best way for us to manage our money while traveling.
You'll need to take charge of your money too when you travel to make sure you've got enough money available for your trip, have more funds accessible if you need them in an emergency and can easily get in touch with your bank if you have any financial problems.
Once you've got that covered then you want to make sure you don't  lose money through fluctuating exchange rates, high bank fees or exchange rate commissions.
Here are my tips for managing your money wisely when you travel.
Managing your money so it's easy to access
This is crucial when you travel. Plans change, prices go up and communications can be hard while you're traveling so you need to make sure you can access your money any time and from any place.
1. Take a direct debit card
Make sure you can use the ATM at your travel destination. They're usually the cheapest and easiest way to withdraw cash.
Take a card you've used before, check it won't expire before you leave and make sure you know the PIN numerals, not just a word as the ATMs overseas may not have letters on the keyboard as well as numbers.
2. Make sure you can transfer money online
Online transfers are usually the cheapest way to transfer money from one country to another so make sure your bank can deal with this. Get your password and user name before you leave and test it to make sure it works.
Commit your user name and password to memory or keep them in a very safe place, not in your email account which can easily be hacked. Lastpass is great for remembering passwords securely.
Take Internet security very seriously. If you're using public computers, for example in Internet cafes or a library, be aware that they may have keyboard logging software which can capture your passwords. Take precautions by using only your own computer or a portable web browser on a USB stick and a virtual keyboard which appears on the screen and is operated by your mouse.
3. Make sure you can also transfer money by phone
If you need to transfer a large sum of money or have problems with your online banking you'll probably need phone banking set up too. Hopefully you won't need to use it but, if you do, make sure you know what the phone number is along with answers to the answers to the typical security questions.
4. Choose financial institutions with a proven track record
It's your responsibility to keep your money safe and make sure it's in trusted hands. Choose established companies with a proven track record for security and trust. When choosing a bank pick a global institute with branches worldwide.
5. Take at least one credit card
Credit cards are a great back up when traveling in case things go wrong. Keep them in a separate wallet or bag so you have a back up at all times if your cash or debit cards get stolen.
6. Consider getting travelers cheques
If you're traveling to remote areas credit cards might not be widely accepted in which case travelers cheques are the best back up plan. Make sure they're in a currency that's widely accepted where you're going. Travelers cheques in US$ are usually a safe bet.
Travelers cheques are expensive so get them only for use in emergencies.
Managing your money so none is wasted
The best way to maximise your travel money is to make sure none of it is wasted on unnecessary fees or lost through high currency exchange commissions.
6. Never change large sums of money at a high street bank
High street banks offer a poor exchange rate so if you must change money there do so only for small amounts.
7. Never change money at the airport
You'll get the worst rate of exchange and a big hit on commission at the airport. If you need cash as soon as you arrive somewhere use a dedicated currency exchange company like HiFX to beat high street bank exchange rates and avoid exorbitant commission fees. If you're in the UK they will even deliver the currency to your door free of charge for orders over £500.
8. Change your money in two separate transactions
If you're changing large sums of money into another currency do it in two or more separate transfers over a period of time. You can never be sure if the currency exchange rate will move in your favour or not but the best thing to do is hedge your bets by making more than one transfer.
9. Split your money between currencies
If you're going to more than one country or you're not sure where you'll end up it's wise to split your funds between two or more currencies. That way, even if one goes down, hopefully the other will go up to balance out your potential losses.
Some banks will allow you to open multiple accounts in different currencies so you don't have to deal with several different banks to organise this.
10. Check the bank fees
Banking fees can eat up a large chunk of your money, especially when you're moving money between countries and currencies. Choose a bank or money exchange service which is transparent about its fees and charges fixed sums rather than percentages.
Look out for specialised currency exchange services that will transfer and exchange money free of charge for larger sums.
Managing your money while you're overseas might seem complicated to begin with but it's worth spending time working out the best options. That way you can enjoy your travels knowing you'll be able to access your money whenever you need it and have more to spend on those precious travel experiences.
This blog post is sponsored by foreign exchange and international money transfer experts HiFX who are on a mission to help people save money and minimise the impact of fluctuating exchange rates.
How do you manage your money while you're traveling?
Photo credit: 401
Share This Story, Choose Your Platform!