How to Fly FREE – Guaranteed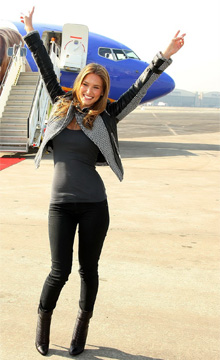 Ladies and gentlemen, I interrupt this blog to share some new travel tips from fellow blogger and travel fiend Chris Guillebeau. To find out how to get FREE FLIGHTS please remain seated and listen carefully to the following announcement.
Currently in the final two years of a five-year mission to visit every country in the world, Chris is a genius at getting free flights and amazing flight deals anywhere, anytime. Now he's teaching other people how to get free flights. Sounds good doesn't it?
Now he's decided to share his travel hacking secrets with us so we too can take advantage of secret flight deals anywhere and go jetting off around the globe for next to nothing or even learn how to fly free.
What's Travel Hacking and How Can it Help You Fly Free?
Travel hacking is the art of earning large amounts of frequent flier miles without getting on a plane, and then redeeming them for high value plane trips.
Chris has been using these flight deal techniques since 2006 to earn more than one million air miles every year and book trips all over the world.
He's been successfully teaching other people how to do take advantage of the best flight deals for years with his Frequent Flyer Master program and now he's launched a brand new membership site, the Travel Hacking Cartel. The aim is to help more people make the most of these amazing opportunities and make it easier than ever to learn how to fly free or get the best flight deals.
How Does the Travel Hacking Cartel Work?
Tutorials and an extensive Knowledge Base will help you get started. Let's face it, most of us don't know exactly what to do with air miles or air points so these tutorials and the knowledge base will tell you everything you need to know.
Log-in to Cartel HQ anytime to see the latest Airmile and Flight Deal Alerts, Knowledge Base, and other essential travel information.
Get Airmile and Flight Deal Alerts sent via email and/or text message, telling you exactly what you need to do to earn miles and take advantage of special promotions.
Members choose from three price tiers ranging from $15-39 a month.
There's a $1, 14-day trial for everyone.
Members are guaranteed to be able to get one plane ticket every three months (25,000 air miles per quarter).
How to Get Free Flights – Guaranteed
It's true. Travel Hacking Cartel members are guaranteed to be able to get fly free once every three months (25,000 miles per quarter). According to my calculations a one way flight from Australia to Europe is around 64,000 miles one way and would cost around $1,000 so it seems like a brilliant deal to me.
Just visit the Travel Hacking Cartel site to get all the details on how to earn air miles so you can fly free.
Who Will Benefit From Joining?
Anyone, from budget travellers who want to score a free flight or great flight deals, to executives who want to enjoy upgraded flights to business and first class anytime without paying a massive premium.
Free Flights Deals – How to Try it Out For Just $1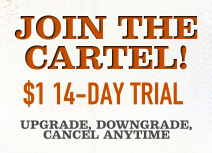 To get things started the Travel Hacking Cartel is offering new members a $1, 14-day trial as an introduction to the world of travel hacking.
After the trial, members are billed based on the pricing tier they signed up for, with three price tiers to choose from starting from only $15 per month.
If at any time you want to opt out they make it easy to cancel with their "no pain in the ass" cancel option. To find out more click here.
What if I don't live in the USA?
Both US and non-US residents can benefit from this opportunity. About half the air mile and flight deals are available only in the U.S., but the other half are available worldwide. The Travel Hacking Cartel focuses on U.S. mileage programs because that's where many of the best deals are, but you don't need to live in the U.S. to benefit from them.
Why Pay For this Service?
If you like to travel then it makes sense to give travel hacking a go and this is the best way to get started.
Of course you could probably spend endless time researching the airmile and flight deals yourself, but Chris has relationships with many of the airlines, and a lot of his personal tricks for finding and recognizing deals and learning how to fly free will be going into this.
With the Travel Hacking Cartel all the deals and details are sent right to your in box so you don't have to waste time looking for them and you'll never miss out.
Come Fly With Me
I've already signed up for the Travel Hacking Cartel and am going to dedicate this year to expanding my travel horizons and getting some good flight deals anytime I want to. For me this is about committing to travel hacking and actually doing it instead of just thinking about it. I can't wait to enjoying some free trips this year and hopefully many more in the years to come.
I've also decided to be an affiliate for the Travel Hacking Cartel because I believe in it 100% and I know that it will offer excellent value for money and amazing rewards. If it sounds good to you too I hope you'll join me on my travel hacking quest and join the Travel Hacking Cartel too.
Have you got any tips on how to get free flights?
Do you love travel too?
Subscribe now for more travel tips and funny travel stories – get the RSS feed or subscribe by email. That way you'll stay tuned every time the blog is updated which is between once and three times a week.
Thank you and happy travels to us all!
Photo credit: Zipckr
Share This Story, Choose Your Platform!