What Makes a Hotel Hot? Or Not?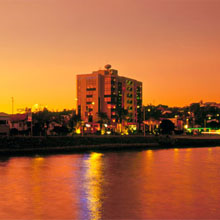 What makes a hot hotel for a city break?
On our recent night in Brisbane, after much debating and comparing of every single Brisbane hotel on my fave hotel booking site Wotif, we chose The Riverview Hotel in Hamilton because:
I'm a sucker for a nice view.
It has free parking.
It's within walking distance of Fortitude Valley which we wanted to visit.
Here's a fast, fun hotel review.
Location
The hotel overlooks the Brisbane River and a busy road, but we never see much traffic normally, plus the bedroom was quiet and set well back from the road, so that was fine.
The Riverview Hotel is a 15 minute drive to the city center and we never ended up walking from the hotel to anywhere although you can walk along by the river.
Hotel Rooms
The first room we were showed was a bit slim on the river view.
So we called down to reception, who immediately sent a charming young man to carry our bags to a much roomier room, with a fabulous river view. Perfect.
I thought the decor was a bit dated with an old English style but I've seen worse. Much worse actually, and it was kind of like visiting your granny so quite homely really. I prefer modern interiors but if you like old style glamor, with chandeliers and pelmets The Riverview Hotel has it.
Bed
We didn't sleep well but I don't blame the bed which was clean, comfy and inviting. Too much excitement probably.
Service
In a word, excellent.
The hotel gave us a complimentary Sunday paper which included an article about how poor service is in Australia, but you couldn't improve the service at the Riverview Hotel. The lovely staff were all super friendly from the moment we arrived, when the receptionist greeted the Mucho Man:
"Your name is Rich Candy? Wow! That"s amazing."
This friendly, helpful service continued when we asked for a room transfer, and when we (well me) set fire to a chocolate croissant during breakfast. Ooops.
I couldn't resist putting the croissant through the automatic toasting machine to see what would happen. Let me tell you it wasn't good and the end result, a thoroughly blackened croissant which had been flame-grilled on both sides was inedible.
Still, the kind staff didn't bat an eyelid. They just tactfully commented that the croissants did set fire in the toaster, then brought me a fresh one they'd warmed thoroughly in a conventional oven.
Totally accommodating.
Breakfast
It should be compulsory for hotels to include breakfast for their guests.
I always give my guests cereal at the very least, and like any good host, The Riverview Hotel's breakfast was included in the cost of the hotel room.
It was much better than cereal too, although that was probably an option. The buffet breakfast was a feast with fruit, muesli, smoked salmon and crumpets for starters. Several trips to and fro between our table and the groaning buffet table were needed.
All that was followed by a massive cooked breakfast of hash browns, eggs and grilled tomatoes for me, with the manly mixed grill for the Mucho Man. It was all yummy but the mixed grill looked like enough meat for a week so I'm glad the Mucho Man didn't eat it all. We hate seeing food go to waste though.
The Acid Test: Would we go back?
I'd definitely stay at The Riverview Hotel again, they treated us well and it was great value, but there are so many hotels in Brisbane, I'd probably try somewhere else next time.
I have my beady eye on the Sofitel in Brisbane.
The Sofitel looks amazing, plus they're having the Fashion Stills photographic exhibition there from September 9 until December 26th 2011.
Fashion Stills has been on display across Europe and North America and offers a peek behind the scenes at classic designers like Dior and supermodels like Kate Moss.
The Sofitel is also right in the city center so we could avoid the stresses and near death experiences of driving round a strange city and walk everywhere.
As a big bonus the Sofitel also has a Stephanie's Day Spa Retreat.
If it's anything as divine as the Stephanie's Spa I visited in Noosa that's an experience not to be missed. You can read about the Noosa Stephanie's Spa on this blog post I wrote for Visit Sunshine Coast: Speed Relaxing at Stephanie's Spa.
Oh yes, if I can swing another night in Brisbane anytime soon, the Sofitel would be my first choice.
What makes a hotel hot for you? What are your best or worst hotel experiences?
Share This Story, Choose Your Platform!