5 Reasons I'd Love to go Back to Heron Island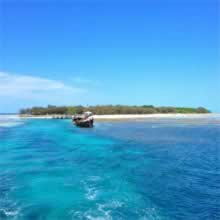 I'm not the only one who can't Heron Island out of my head. I met several people there who were on repeat visits and I'd love to go back too. Here's why:
1. Supreme natural setting
When you stay at Heron Island you're literally living on a bird reserve with the sights and sounds of birds everywhere. It's a desert island setting with white sand beaches and sea in ever-changing shades of blue as far as the eye can see.
Of course being stuck in the middle of the Great Barrier Reef means there's as much wildlife underwater as there is in the skies and in the trees. The multi-coloured fishies show no fear when you snorkel by them and it's a thrill to see turles swimming under the jetty and pulling themselves up the beach to lay their eggs during the turtle nesting season.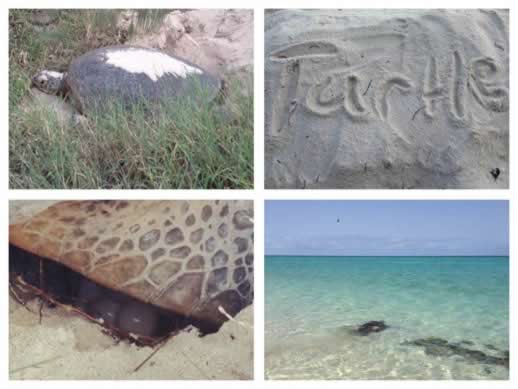 2. Plenty of free activities and learning opportunities
Free bird walks, reef walks and a tour of the research station will spark your curiosity about the Great Barrier Reef and Heron Island's unique ecosystem and the trained guides will answer all your questions.
Once  you've hired your mask and flippers the gear snorkelling is free and for a few hours either side of high-tide you can be totally immersed by what you see below the ocean. If you've never snorkelled before or are nervous about it you can have a free lesson in the pool. We managed to drag ourselves out of the water and off the beach for a game of tennis too.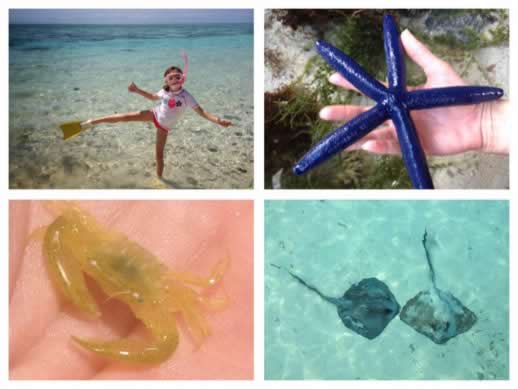 3. Free food and no cooking
The ultimate holiday for this busy mum involves no cooking and Heron Island delivers. Many packages include all your meals in the rate with big buffets for breakfast, lunch and supper so not only do you not have to cook or clean up but there's something to please everyone in the family, even those fussy eaters. To mix things up a bit sometimes you can choose your evening meal from a set menu.
We ate out on the deck entertained by watching the buff banded rails try to break into the restaurant for scraps. Meals are much more enjoyable when you don't have to jump up to turn off the oven, get the ketchup or wipe up a spill and you have more time to hang out at the beach when you don't have to cook.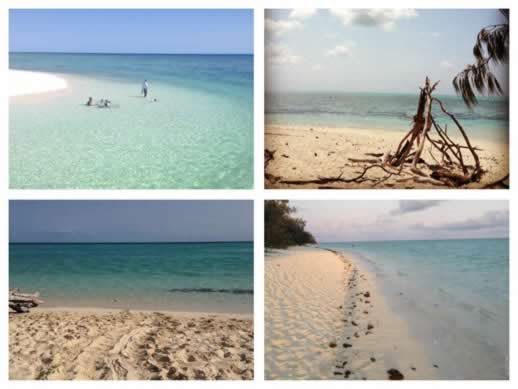 4. Spa pampering
The spa is a quiet oasis with huge glass windows in the treatment room so you can still enjoy the nature but feel totally private. With the rest of the family busy snorkelling I snuck off for a facial and may or may not have drifted off as the therapist pampered me. I'm not quite sure what she did to me but I came out looking fresh faced and feeling as free as the birds.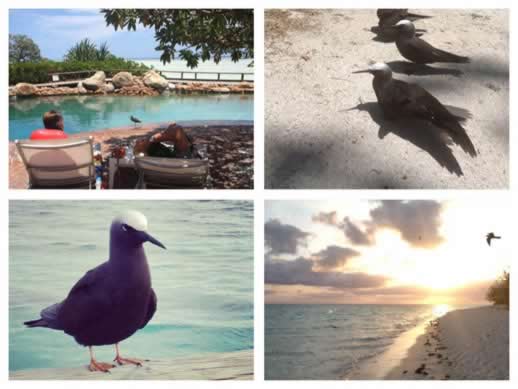 5. Desert island experience in total comfort
There's Wifi in the Heron Island bar but otherwise we were offline, off our computers and cut off from the real world in a good way. We had two rooms next door to each other on the first floor with a seaview from the balcony that put us on eye level with the nesting black noddy terns.
Thanks to the kettle and fridge in our room I could even make a nice cuppa and take it down the beach to drink while we looked for nesting turtles at sunrise or just sup it on the balcony while playing cards with the kids.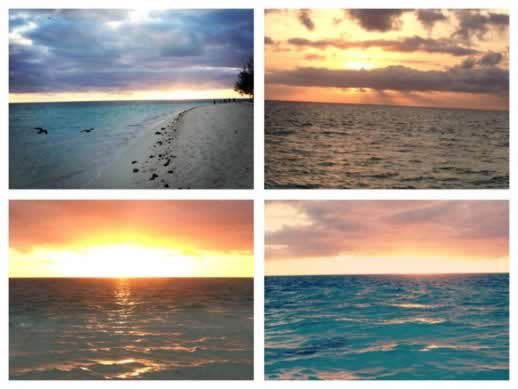 The wildlife changes throughout the year at Heron Island and there's something new to see every day. Stripped of worries and obligations we got back to nature, enjoyed our family time and left feeling nourished in body and soul.
No wonder I can't get Heron Island out of my head.
I was a guest of Heron Island Resort. Check out their fabulous photos, take a virtual tour or plan your visit on their website.
Share This Story, Choose Your Platform!