Easy Living Hawaii: 7 Great Ways to Chill Out on the Big Island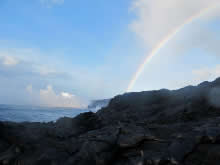 Looking for things to see and do in Hawaii or just want to chill out on the Big Island? Hawaii is one of the world's best travel destinations so I'm excited to have a guest post by my dear blogging friend and long time Hawaii resident Sandra Pawula.
Not only does Sandra have THE best travel tips on Hawaii but she's also an expert on stress reduction so, even if you can't jump on the next flight to Hawaii to chill out, you can join Sandra on her brand new e-course Living with Ease: 21 Days to Less Stress.
Aloha Sandra! Thank you so much for agreeing to share your hot Hawaii travel tips with us. Please tell us how you came to live on Hawaii and all about the best things to see and do on the Big Island.
I can't say I fell in love with Hawaii's Big Island at first sight. On landing at Kona Airport, I looked out of the oval-shaped plane window and couldn't help wonder if we had landed on the moon. A stark, vast expanse of craggy black lava rock met my gaze.
Fortunately, the rush of hot air as I stepped through the cabin door assured me I wasn't descending onto a lunar landscape. Though my love affair with the Big Island began with a few fits and starts, Hawaii, and especially the Big Island quickly entrapped me in unrelenting bliss.
You see, I was a proud workaholic who worked night and day. But, embraced by her unhurried pace, the Big Island offered me a singular taste of what it might be like to live with greater ease.
Is Hawaii an Island or State?
Hawaii is the name of the state and its largest island too, which is usually called the Big Island to avoid confusion. Although complex and enchanting in its diversity, the Big Island is roughly divided into two segments:
The desert-like, lava-studded Kona side with world-class white sand beaches.
The rainy, wild, lush Hilo side with stubbly black sand beaches and lava rock cliffs.
Kona is primarily a tourist town, while Hilo is host to the government and a university.
7 Top Reasons to Visit the Big Island of Hawaii
The unique splendor of the Big Island lured me back at least five or six times. The last time, I stayed forever. Here are my top seven  reasons why you should consider visiting Hawaii's Big Island on your next trip.
The Big Island is larger than all the other Hawaiin Islands combined with 4,028 square miles of surface area to enjoy and explore. Even though you can drive around the island in about nine hours, why would you? Take your time and chill out in a few special places instead. You can always come back for more.
Fewer tourists!
Less expensive!
Of course, the real Hawaii has been radically compromised in the last 50 years on almost all the main islands, but the Big Island feels closer to the real Hawaii. Plus, there are no freeways or high rise buildings.
The Big Island boasts 11 of the world's 13 climatic zones. You'll find rainforest-style jungles, arid farmland, sunny beaches, misty highlands, plunging valleys, desserts dotted with endless lava rock, active lava flows, if luck is with you, and snow-topped mountains. In short, the Big Island has it all plus a remarkable ambiance that cannot be described in words.
There are active volcanos for goodness sake! Actually, there are five volcanos in total: Kohala, Mauna Kea, Hualalai, Mauna Loa, and Kilauea, but only the last two are active. The Island literally grows right under your feet.
Last, but perhaps most important of all, there's Hawaiian time and the Aloha Spirit. The Big Island has a special clock that ticks more slowly than timepieces in the more frantic places of this world. It might take a few days, but you can't help but absorb the leisurely pace and begin to melt into a feeling of ease. On top of that, the people are friendlier and more grounded here. They are quick to smile or help you out. Their warmth and kindness start to penetrate your being making you want to relax and be good too.
7 Simple Ways to Chill Out on the Big Island
There are hundreds of great ways to chill out on the Big Island and get the relaxation you deserve, but that would make this article a book. So I've selected some of the easiest to access – less hassle for you – yet enjoyable, fun, and restful spots. Be sure to bring your own water, food, and snacks. This sequence will take you on a loop – with diversions – around the island traveling south from Kona, but you could reverse direction if you wish.
As you head south out of Kona, be sure to avoid the java shacks which offer gourmet Kona coffee grown right on the Island in rich volcanic soil. I know the full-bodied flavor and pleasing aroma may tempt you, but it will only amp up your nervous system when you truly want to loosen up instead.
1. Pu'uhonua O Honaunau National Historical Park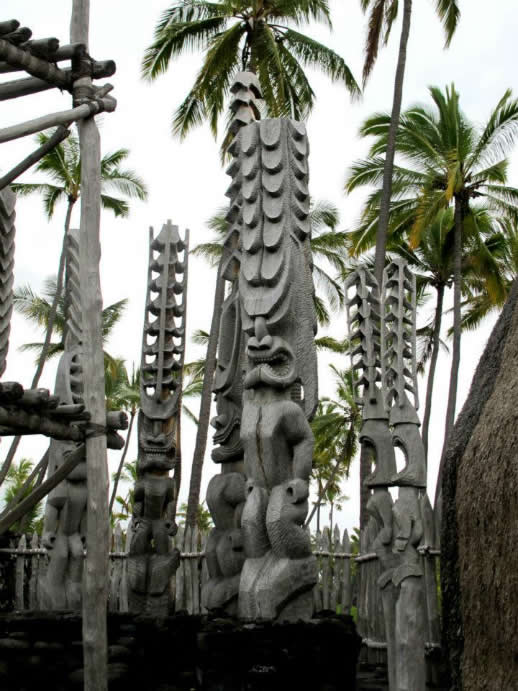 Pu'uhonua O Honaunau is a serene and sacred place where you'll get a glimpse of ancient Hawaii. The park contains several significant traditional Hawaiian sites, including the Place of Refuge. In earlier times, this sanctuary, enclosed by the 965 foot Great Wall, offered people a second chance at life after they had broken sacred law or were defeated in war if they could physically reach the grounds and receive absolution from a Hawaiian priest.
There are more sacred sites found within the 420 acres plus the 1,871 trail that traverses the coastline and the remains of an abandoned farming and fishing village.
Watch craft demonstrations (weaving, fishing, carving) and learn about the richness of Hawaiian culture, explore the tide pools, bird watch, identify native flora, and fish or picnic. Snorkeling is not permitted in the park, but there is a snorkeling area called "two step" next to the park.
The Place of Refuge might be the perfect place to contemplate forgiveness and even begin to forgive – yourself or someone else. It's a great way to lighten your load.
2. Punaluu Black Sand Beach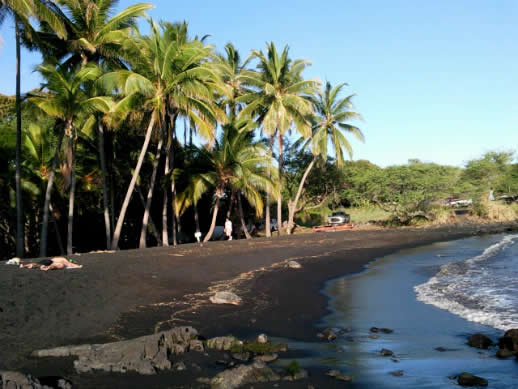 What better teacher than the Honu, Hawaiian Green Sea Turtle if you are want to learn to slow down and stay still. These great turtles swim in the waters and nest on the sand at Punaluu Black Sand Beach. Coconut palms line the edge of the black sand strip providing a modicum of shade. Behind you lies a lagoon and in front of you the wild, frothy bay.
The sea water tends to be rough here. Unless you are a strong swimmer, plan on wading, sunbathing, and lolling around. You'll be grateful for flip-flops or shore shoes as the newer black sand is not nearly as delicate as the older white variety.
3. Kilauea Volcano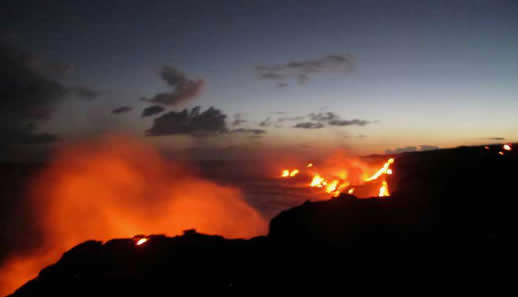 Kilauea Volcano, the most active volcano in the world, is sometimes referred to as the "drive-in" volcano as it's so easily accessible. There are several different ways to see the magnificent red-orange lava flow if it happens to be active during your visit.
A great place to start is Hawaii Volcanos National Park, which encompasses much of Kilauea. Call (808) 985-6000 or visit the website for eruption conditions within the park, which are constantly changing. As I write this piece, you can view an active lava flow in Halema'uma'u Crater from the Jaggar Museum Overlook Viewing Area, which is accessible by car and open 24 hours a day. Glows are best seen at dusk, dawn, or in the dark of the night.
Another option is to take an arduous 14-mile hike from the end of the Chain of Craters Road to see eruptions from the East Rift. That doesn't sound very relaxing in my book, but it might be your ideal way to chill. If you're lucky, you'll be able to see surface flows and lava melting into the pounding waves of the Pacific.
There are many things to do in Volcanos National Park, including countless hikes. You'll want to spend at least a full day there and probably more. The weather may be a little chilly and sometimes rainy at this higher elevation so bring the right apparel.
Outside of the park, you can also see glimmers of lava flowing in the distance, currently three miles away, from the Hawaii County Kalapana Lava Viewing site at the end of Highway 130 – about a 90-minute drive from the park. This is a restricted access area that is currently open from 3 PM to 9 PM. Call (808) 430 -1966 for lava flow conditions in this spot.
You will be warned that you cannot hike out to the lava flow from this site as the surrounding area is private property and parts of it constitute an evacuation zone. True… However, there are a handful of experienced guides who lead tours to see the lava flow if you desire to get up close, but not personal, of course. It can be a 1-2 hour walk one-way over slightly rough lava terrain, and you may be prized with red hot surface flows and dramatic ocean entries or tiny trickles instead.
Never try to walk out to an active lava flow on your own. Newly formed lava "ground" can be unstable and disappear beneath your feet. And, waves can even sweep you off the edge of a cliff.
If you've always dreamed of an ocean view of pouring molten lava, taking a lava boat tour should be your ticket. When the lava is active, small boat tours leave every day just before dusk from the Pohoiki Bay Boat Ramp in Issac Hale Beach Park.
Needless to say, witnessing an eruption is an awe-inspiring moment you will never forget.
4. Wai'opae Ponds (Kapoho Tide Pools)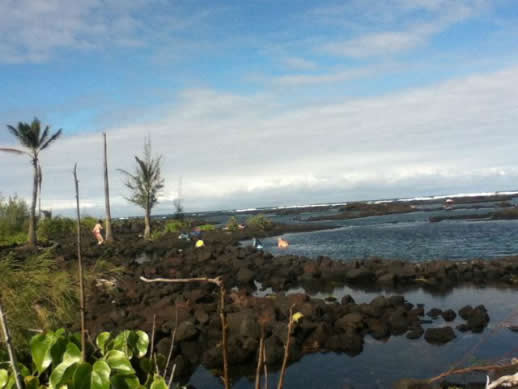 This mile-long collection of tide pools extends 200 feet to the ocean, offering a sweet place for snorkeling, swimming, and sunbathing. Some of the pools are only a few feet deep, but others offer plenty of space for underwater fascination. The sweeping view of the sea merging into the sky, will naturally make you feel more open, relaxed, and spacious.
The tide pools are safe, but the rocks can be slippery to navigate, surf shoes are essential. The ocean may have strong currents so exercise caution as you come to the edge of the reef.
5. Ahalanui Park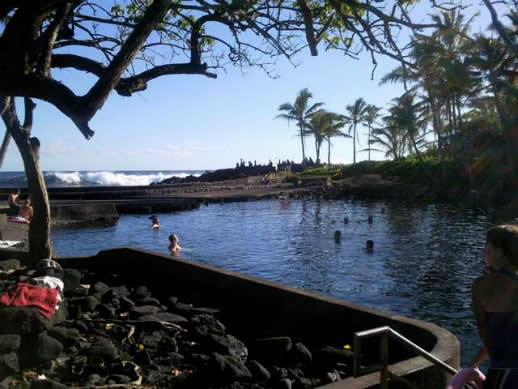 This lava-rock lined spring and ocean fed pool has an inlet separating it from the ocean, but when the tide is high the waves splash over the edge.
Volcanically heated at times to a comfortable 91-95 degrees, you'll find most people floating on their backs in sheer comfort – though some diehards do laps – and children in every possible form of flotation device from angel wings on the arms to little baby-sized shady cabins that drift atop the surface. At other times of the month, the temperature can be nippy like the ocean, but still very refreshing.
You can picnic or sunbathe right next to the pond or grab a picnic bench in the large grassy field dotted with coconut trees at the entrance to the park. I've often seen Honu (turtles) surfing in the waves to the right of the pond. This is a popular place for locals on the weekend and during the summer.
6. Connect with Big Island Wildlife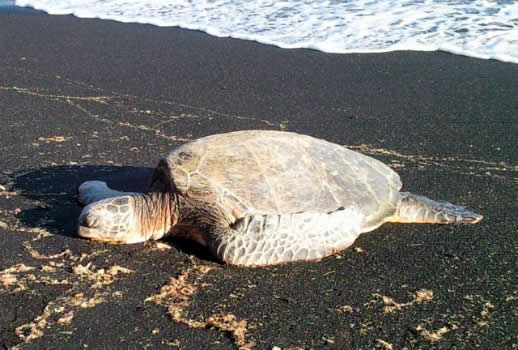 Wherever you happen to be on the Big Island sit down on a beach, cliff or in a field. Take a slow, deep breath, relax, and observe.
If you stay alert, but relaxed you might see a:
Pueo, Hawaiin owl;
'Io, Hawaiin hawk;
Honu, Hawaiin Green Sea Turtle;
Nene bird;
Whale – the Whale season runs December through May;
School of Spinner Dolphins;
Wild pig emerging from the jungle on the side of the road.
You could say this is a simple practice of mindfulness, just being present to whatever presents itself. It's certainly an easy way to calm your mind and give your cells a dose of inner peace.
7. Mauna Kea Beach (Kaunaoa Bay)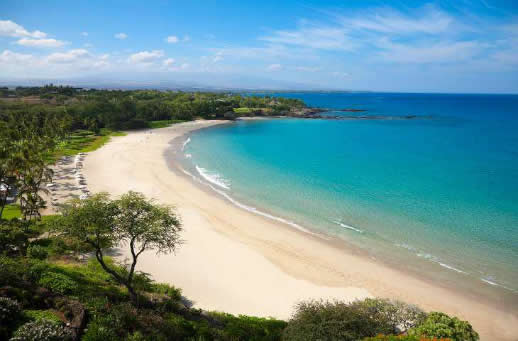 This absolutely gorgeous palm-lined, crescent shaped cove may be the most picture-perfect and relaxing white-sand beach on the Big Island. It's my favorite and it deserves its spot on several of the top ten lists.
You could easily spend hours planted on the shore in listless reverie interspersed with lazy dips to cool off. The waves are almost always gentle here. Most of the bay is sand-bottomed and less than 10-feet deep. This makes for easy swimming, floating, and snorkeling, even for kids. You'll find the best snorkeling on the right-hand side of the beach by the hotel. Snorkel out along the rocky ledge to the coral flats near the point.
Access to the beach is limited, however, since it is owned by Mauna Kea Hotel – the access not the shore that is. This means the beach is never crowded, but you have to arrive early in the day, usually by 9 AM, to secure a treasured pass (one per car) and parking place (about 25 in total) from the guard house at the entrance to the hotel.
But don't worry, if your timing is off, you can simply drive a few miles south to Hapuna Beach State Park, another heavenly spot, and enjoy the longest white sand beach on the Island, which has also been included in several international top 10 lists.
Parting, they say, is such sweet sorrow. I inevitably planned my departure mornings for a final dip at Mauna Kea Beach since it's only 30 minutes from the Kona airport, all the time hoping to miss my flight.
The Big Island Offers Many More Things to Do!
This tiny tour neglects so much of the Big Island, from the snowy peaks of Mauna Kea to cattle country in Waimea and the lush paradise of Waipio Valley. That's okay. Better to take it easy and let the spirit of the Island gently caress your body, mind, and soul,
I left the Big Island with a slightly heavy heart – after all, who wants to leave paradise – but I felt restored and rejuvenated. The ambiance of the Island stayed with me for weeks, until my hectic pace took over again. Even so, it seemed like the Big Island had altered my genetic code, making me long for the spacious serenity I had experienced there.
Eventually, after burning myself to a crisp and not on the beach mind you, I decided it was high time to turn the volume down on my stress response and learn to live with greater ease, wherever I may be.
Now I live in Hawaii full time and it's definitely a case of true love.
Sandra Pawula is a freelance writer, mindfulness advocate, and champion of living with ease. She writes about finding greater happiness and freedom on her blog Always Well Within. Her new e-course Living with Ease: 21 Days to Less Stress begins on Sept. 9th, and you can register right now. She lives on the Big Island of Hawaii with her husband and two cats.
Thank you so much Sandra for sharing those fantastic travel tips and photos. I have a serious case of "wanna go to Hawaii" right now and hope to make it there one fine day. Hawaii and the Big Island are high on my travel bucket list but in the meantime I'm looking forward to joining you on Living with Ease.
What things would you like to do in Hawaii? 
Share This Story, Choose Your Platform!