Do You Get Over Jetlag Faster With the HumanCharger?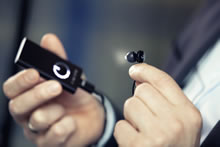 When I was contacted to see if I'd like to test a new gadget that helps you get over jetlag faster the timing was perfect.
I flew from Australia to the UK at the end of June to celebrate my mum's 80th birthday and back to Australia from Europe again 18 days later.
Since I've already flew return from Australia to Catalonia earlier this year (to film the Catalunya Experience travel show!) I know exactly how tiring the journey from Australia to Europe is.
As well as the jetlag caused by crossing multiple time zones and a nine hour time difference, you also suffer sleep deprivation from a 24+ hour journey.
I fly economy class and don't sleep well sitting up so, while I'm not active when I fly long distance I don't get much sleep.
In case you haven't experienced it, the journey from Australia to Europe involves two flights of 12 hours and 9 hours. No matter how good the food and inflight entertainment is flying that far is not fun and creates an immediate sleep debt.
I wanted to make the most of my time in England and avoid feeling exhausted for weeks after I got home so I was keen to try anything that might help me get over jetlag faster.
So I was interested to learn about and try the HumanCharger.
What's the HumanCharger?
It's a set of earbuds that beams 12 minutes bursts of UV-free, blue-enriched bright light at the cranium.
It comes with an App that tells you exactly when to 'charge' yourself based on your travel dates and time and the time zones you're travelling from and to.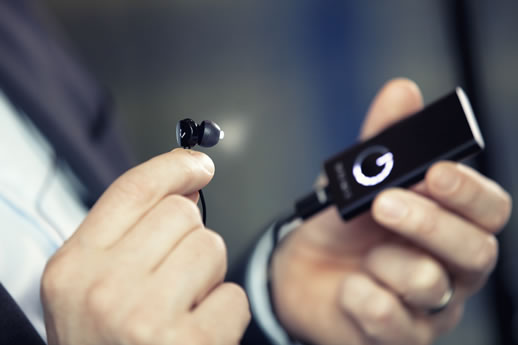 Does the HumanCharger really help you get over jetlag faster?
Studies show that using the HumanCharger helps people recover from jet lag twice as fast. So it's popular with elite athletes and regular business travellers who need to perform at their best.
A test group of travelers recovered from trans-Atlantic jet lag twice as fast as the control group did in a placebo-controlled clinical trial.
It's been used by many professional athletes including NBA basketball teams, KHL ice hockey league teams, national free style ski teams and ATP tennis players.
One UK Premier League football team has been using it for two years and their doctor explained the benefits:
"HumanCharger has proved very useful in helping our players and support staff adapt quickly to time-zone changes caused by long-haul travel. We have seen improvements in sleep duration and quality, enhanced restoration of circadian rhythms, and a reduction in medication use. All factors likely to aid athletic and work performance in the period following such journey."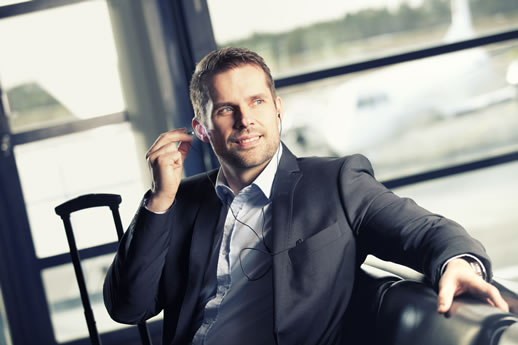 My experience using the HumanCharger
Pros
The HumanCharger headset is well made, looks smart and is easy to use. You just put the earbuds in and press the start button on the box.
The 12 minute bursts of light are timed automatically so the light goes off when the time is up.
The device is small enough to slip into your pocket and you can walk around, talk or do just about anything while wearing it.
It's quite discreet if you've got long hair like me most people won't even know you're wearing it.
The free App (pictured below) is easy to download and tells you exactly when to charge yourself. For me that was four times a day for about six days.
The battery lasts about two weeks so you shouldn't need to charge it during your one way treatment plan.
The gadget is high quality, hard wearing (it survived a couple of drops) and looks like it will last a lifetime.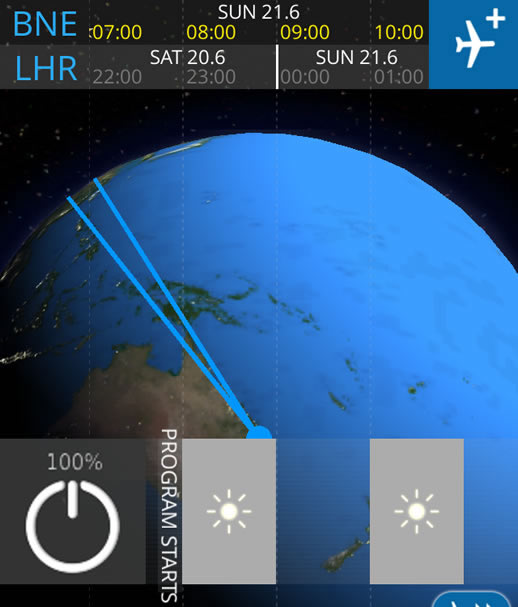 Cons
The HumanCharger isn't cheap but maybe, like many technological devices, the price will come down in time. And when you think about how much we spend on and look forward to our vacations it's a small price to pay to help you feel better and enjoy your travel more.
You have to use the earbuds four times a day to get the benefits. The app will beep to remind you but the timing can be bad, for example if you're eating out, or in company.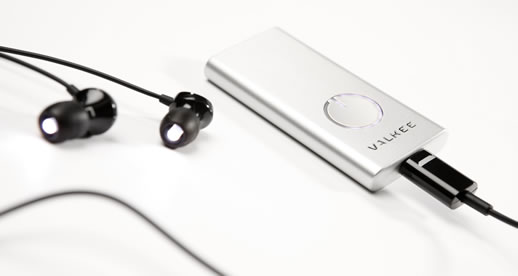 Where to buy the HumanCharger
The HumanCharger is sold on some flights by Singapore Airlines, KLM and Iberia and Finnair.
But since the HumanCharger works best when you start using it before your flight you travel on Amazon.
It costs $259 so it will appeal more to people who travel regularly or for business.
But it's a reasonable investment when you consider that it could stop you from feeling like a zombie for a week.
Would I Use the HumanCharger Again?
I was given the HumanCharger to try for review purposes but I'll definitely use it again when I travel long distance. It helped me hit the ground running in England, get to sleep easily and stay awake until a reasonable time.
When I got home to Australia, which is when I usually experience the worst jetlag, I readapted much faster than usual.
Although I felt tired at times I could still function and I didn't lose a fortnight to exhaustion, bad sleep and the depression that can stem from that. I'm sure it helped me get over jetlag faster.
My family and friends thought the HumanCharger was a crazy idea because I couldn't explain the science behind it to them.
But the scientific research proves it works and I didn't need to understand the scientific workings of the HumanCharger to enjoy the benefits.
Find Out More About the HumanCharger
Visit the HumanCharger website or check it out now on Amazon.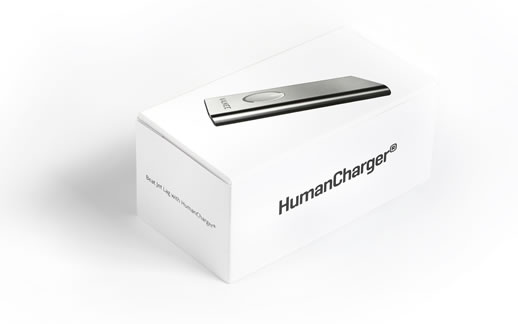 How do you get over jetlag faster? Would you try the HumanCharger?
Share This Story, Choose Your Platform!