3 Ways to Get Cheaper Flights with I Want that Flight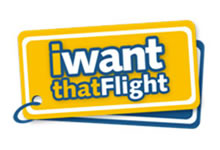 Do you spend a lot of time looking for cheaper flights? With five people in our family and five plane tickets to buy I'm always looking for cheaper flights because, when multiplied by five, that can shave hundreds of dollars off the cost of our trips away.
Or thousands of dollars on a long haul trip because two of our three children are older than 12, so we have to pay adult fares for them.
There are a slew of flight comparison sites around which I've used before but you can end up spending hours pouring over them and coming away more confused than when you started.
So I was interested to hear about the Australian-owned I Want that Flight comparison site from its Melbourne-based creator Gath Adams.
I Want that Flight is especially good if you're looking for flights out of Australian because it offers all the main and most of the lesser known Australian airports. But the site also works well for comparing flights from countries outside Australia.
I Want that Flight deals with domestic and international flights and searches the traditional airlines as well as budget carriers.
It covers most airlines so you can choose the cheapest flights, a specific route you prefer or an airline that helps you earn frequent flyer points.
The majority of global airlines are covered but airlines that are particularly useful for flights to, from or around Australia are:
Qantas
Virgin Blue
Tiger Airways
Jetstar
Rex
Asia
Scoot Airlines
Emirates
Singapore Airlines
To avoid the overwhelm that you can get from using some flight comparison sites and let you take advantage of I Want that Flight straight away here are three ways to start using it today.
Even if you're not ready to book a flight right now these features will allow you to save money when you do want to book a flight.
3 Ways to Get Cheaper Flights
1. Cheap flights alerts from your local airport
One of the things that annoys me about signing up for email news with a specific airline is getting multiple emails about cheap flights I can't take because they're not leaving from my region.
With I Want that Flight you can sign up for the cheap flights newsletter for email alerts about the cheapest flights only from your local airports.
You can choose your local airport for domestic flights and another airport for international flights, along with up to four destinations if there's somewhere specific you want to go.
Then you can choose to have the emails sent daily or weekly depending on how keen you are to secure those cheap flights when they do come up.
It's an easy email sign up feature that allows you to be updated about the cheapest flights from your hometown, so you know when to get the cheapest deals.
2. Cheap flight alerts to a specific destination
This feature allows you to sign up and get an email when the fare to a specific destination drops below a specific price.
To sign up you just enter the details of a flight you want to track and the maximum price you want to pay.
You just choose the airport you want to leave from and your dream destination along with some dates. There's the option to check 'flexible dates' then you can enter a date range, such as departing anytime from 1 July to 10 July and returning 25 July to 30 June.
After signing up you will be sent email alerts when either the departing or return flight is under your maximum price. This gives you the best chance of getting at least one cheap flight, either on your outbound or inbound flight.
The alert is are automatically deleted when the flight date has passed so you don't keep getting emails you don't need any more.
3. Find the best time to fly
One of the easiest ways to save money on flights is to get the timing right as flight prices can vary hugely depending on the date of your flight.
So I love the yearly overview on I Want that Flight. It means you can pick your holiday dates depending on when fares are cheapest. Or squeak into cheap seats right before the fares go up over school holidays.
For example, if you want flights to Sydney go to the Domestic Flights area. Then choose Sydney from the box on the right that says "Domestic Flights.  Fly To:"
First choose Sydney from the destinations then, on the next screen choose where you want to leave from.
On the following screen you'll see a graph which shows the cheapest (and most expensive!) days to travel during any month. Then further down the screen there's a chart like the one below showing the cheapest months to fly with each airline.

It means you can see the cheapest dates to travel before you book your time off work or, if you know when you need to travel you can compare all the airline fares on one page with no confusing details.
So that's why I Want that Flight looks good to me because anything that makes getting cheaper flights faster and less complicated is welcome.
Cheaper flights mean more spending money when you get to your final destination, or extra trips away if you want to use your savings for more travel. However you choose to use your savings saving money on flights is always a win.
Have you got any tricks for getting cheaper flights?
Share This Story, Choose Your Platform!