Funny Travel Story: Why Now Broken Shoes? Why Now?!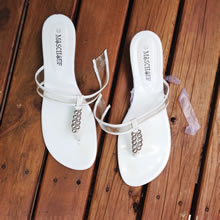 In 2010 when I got invited to visit Shanghai with Coca-Cola I literally had nothing to wear. Well, nothing that you'd wear in the city because all I had was beach wear. Remember that I'd been living the dream in the jungle in Costa Rica for 18 months and owned nothing remotely smart.
So I bought a couple of cheap dresses and some cheap shoes. Everything had to be cheap because I hadn't worked for a few years either. So I chose a pair of white plastic slides with silver beads because I thought they looked reasonably on trend, could be dressed up or down and would keep my feet cool. They cost $20 and were probably made in China so there was a special irony in the fact that I'd be flying them back to China business class. Thanks Coca-Cola!
Shortly after I bought them Coca-Cola flew me to Sydney and put me up at the very posh Intercontinental Hotel where Justin Bieber was also staying. I wore my new shoes and did not see Justin although I kept my eyes peeled for him along with hundreds of drooling fans. I was not drooling. Just a curious bystander.
During our briefing from Coca-Cola about what to do and what not to do in Shanghai we were advised to wear covered shoes due to the predominance of spitting on the streets of Shanghai.
It's true! Spitting is a problem in China as evidenced by this Anti-spitting Campaigns article in the China Story:
"There have been numerous unsuccessful attempts to eliminate spitting in public (suidi tutan ????) in the name of civilisation and modernity, and not only at the time of the New Life Movement in the 1930s. Anti-spitting campaigns proliferated in the 1950s. Deng Xiaoping again attacked 'this unhealthy habit' in the 1980s. Beijing held public education events on the subject before the 2008 Olympics, and the city of Shenyang in the northeastern Liaoning province sponsored its own anti-spitting campaigns in 2010 and 2012."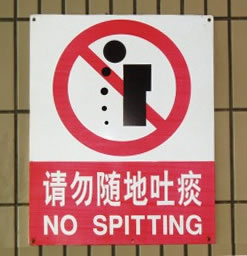 Shanghai also had a crack down on spitting in 2010 when I was visiting for the World Expo but I didn't want to risk wearing those open shoes.
My mind conjured up images of the streets of Shanghai flowing with spittle, running freely over my feet and toes. I had nightmares about it.
So I went back to the dreaded mall, bought a new pair of covered shoes and left the white shoes at home. I did not own a single pair of covered shoes apart from trainers before buying a pair of black ballet flats specially for China and I found them to be very uncomfy.
As I walked round Shanghai with squashed tootsies and sore feet I cursed myself for believing the spitting stories and covered shoe advice because there was no spit on the streets. I didn't see anyone hawk or spit while I was in Shanghai once so the anti-spitting campaign must have worked.
Now I've lived in Australia five years I have a wardrobe full of smart clothes and plenty of covered shoes. But I've worn the cheap white plastic shoes a fair bit too. Mainly when I want to look smartish but not too smart which was the case when I went to a business meeting locally last week.
I put on a dress and the white and silver shoes and hurried out of the door. Everytime I wear the shoes I think of Shanghai, of spit and of how Coca-Cola ruined travel for me forever because flying economy class sucks 500 times more after you've experienced flying business class.
But I digress. Back to the business meeting. I arrived bang on time but as I took my first step from my car to the reception one shoe broke. I guess the glue ran out of stickiness because of age and the heat but it was bad timing. I could not walk in my shoes.  I was going to a business meeting and instead of coming across as a sophisticated business woman as intended the people I was meeting would think I was a hobo.
A glance at my watch confirmed that if I went home I'd be 30 minutes late for the meeting. I took a deep breath, took my shoes off and walked to the reception area barefoot. My children regularly turn up at shops barefoot which bothers me no end so I was pretty upset about turning up to a business meeting barefoot.
I asked the receptionist for sellotape and quickly started taping the shoe back together. But before I finished the PR Manager and Marketing Manager appeared and I had to explain myself.
"Haha! I laughed," as we shook hands. "What bad timing! Hee hee. "
The sellotaped shoe held together for our meeting but right after I shook hands with them before leaving and walked off the other shoe fell to pieces.
I picked both my shoes up, didn't glance behind me and fled to my car hoping no one had noticed.
Those cheap white plastic shoes are in the bin now. They're beyond repair but they had a story to tell.
It's a personal story about a major life change from jungle dweller to business woman. A moral story about cultural differences and how we shouldn't believe what people tell us about other countries and cultures until we've visited them ourself. And a funny travel story about an embarrassing way to start a business meeting.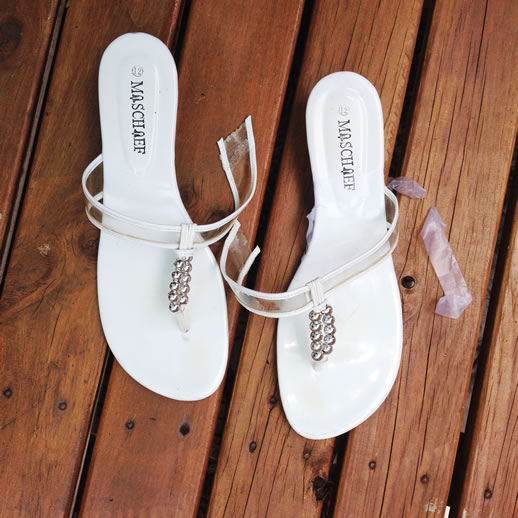 Have you got a funny travel story to share? Or have you ever been caught out by a wardrobe malfunction which created the wrong first impression?
Share This Story, Choose Your Platform!