Fraser Island Family Holiday Photos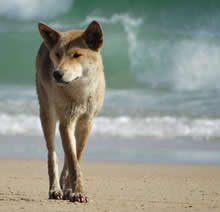 How do you keep seven people aged eight to seventy-eight happy on holiday? We decided to head to Fraser Island for a holiday with our extended family and it was a good choice. Travel writing is fabulous butsometimes the best way to describe a family holiday is to show you the snaps so that's what I'm going to do.
When my mum aged 78 and baby brother (now aged 40+) came to visit us from the UK in September we decided to whisk them away to Fraser Island for some four wheel driving adventures, dingo spotting and beach time.
We stayed at the Fraser Island Beach Houses which were great because they were fully fenced so the kids could walk around by themselves without us worrying about dingos and there was a pool to cool off in. It's not safe to swim off the Eastern beaches of Fraser Island because there are strong currents and no life guards so having a pool was a luxury that kept the kids happy when we adults wanted to chill out with a good book.
The Fraser Island Beach Houses are next door to the village of Eurong with its restaurant, shop, bakery and bar, which is handy when you need supplies or want to go to the bar for a game of pool, but we were glad we weren't actually staying in the village which is sadly lacking in charm.
There are probably 20 cottages all quite close together at Fraser Island Beach Houses but it wasn't busy while we were there. We splashed out on a waterfront cottage so we could enjoy the views and ended up in the first cottage which was slightly in front of the others so it felt very private.
The cottages are big with three bedrooms and a big living area plus lots of decks and we had a gorgeous sea view. We could even spot dingoes on the beach and in front of the cottage there was a big grassy lawn perfect for playing footie, frisbee or whatever lawn sports you fancy.
But enough of the writing already, let's move onto the Fraser Island family holiday photos.
Our family team – Brother Tom, Mum (Granny aged 78), Luke (aged 15), Rich, Kiara (aged 8) and Max (aged 12) wielding a large stick. I'm hiding behind the camera.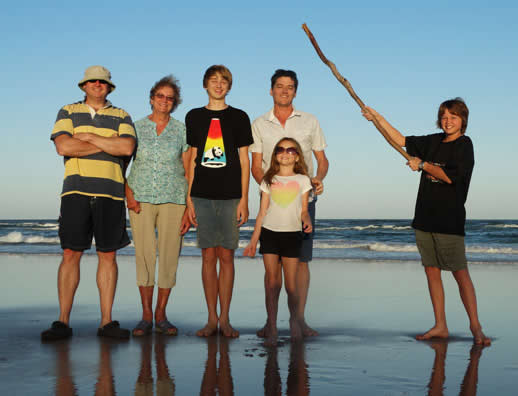 Four wheel driving – Beach driving on Fraser Island is recommended and most fun two or three hours either side of low tide and it's pretty easy then. What's not so easy is driving inland where the sandy roads are very tough going and you will be bounced around  mercilessly. I really thought my head was going to fall off after spending a long morning driving around the island.
Driving on Fraser Island's inland roads is only recommended for experienced drivers and even then expect to get stuck – take a shovel, a snatch strap to pull other vehicles out with and lots of food and water because it could be a long day.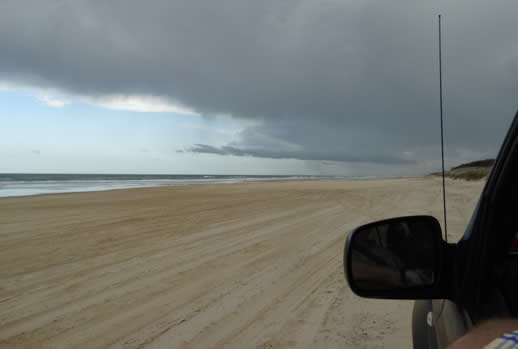 Wildlife in abundance on Fraser Island – A carpet python a tour guide found and handled during a bush walk in Central Station. Not recommended but it makes a good photo and the backpacker tourists were loving it. I have a feeling the guide got lucky with at least one of the french backpacker girls that evening.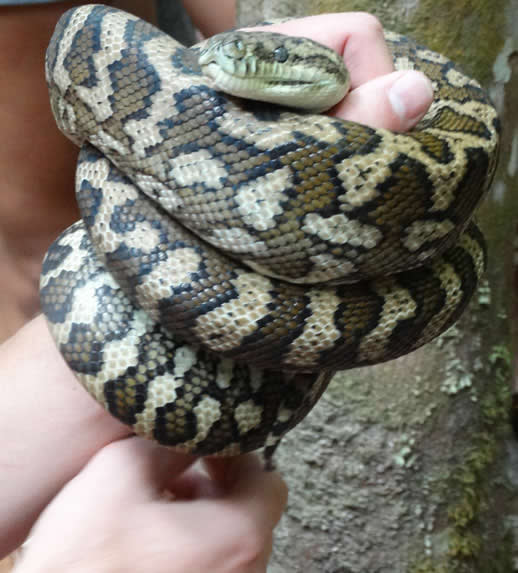 Bush walk in Central Station – The creek water is so clear it almost looks as if there's no water in there.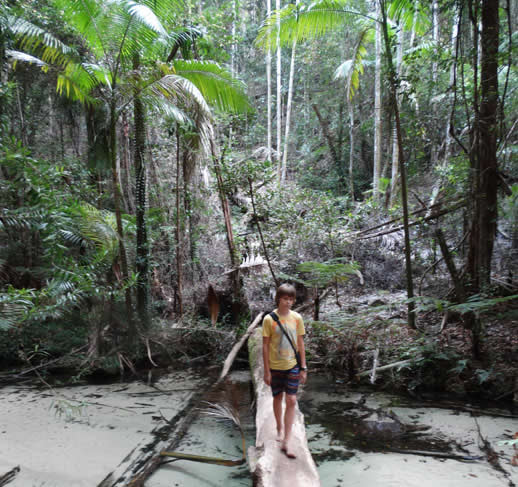 Dingo patrolling the beach – The Fraser Island dingoes are said to be the purest dingoes in Australia because they haven't bred with house dogs.
Fraser Island dingoes catch fish, small reptiles, rodents and bandicoots to eat and packs of dingoes often roam the beach looking for dead marine life or the occasional bird. They are getting smarter and smarter about stealing fish from fishermen too and we saw a dingo dig up a small fish which a fisherman had buried on the beach but not deep enough.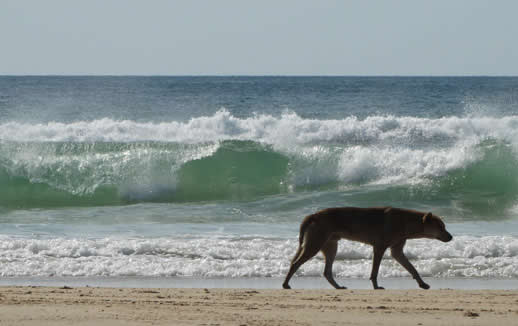 Face to face with a dingo – As I was taking photos of him trotting along the beach this dingo turned and started walking straight towards us. If you go walking on the beach alone in Fraser Island you should take a stick just in case you get any unwanted attention from dingoes and of course never run if you do have problems. Stand your ground, be aggressive and shout. The dingoes will probably run away. Remember Fraser Island is the dingo's home. You are just visiting.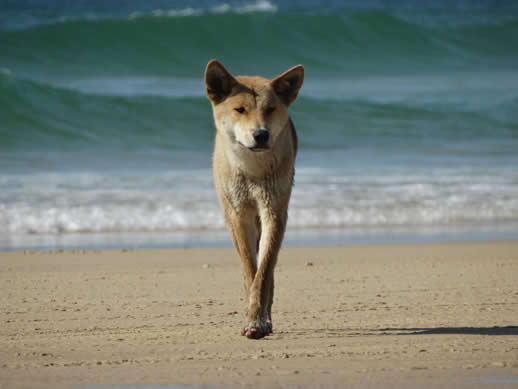 Eli Creek – a popular spot on the Eastern beach where you can walk along the boardwalk and float back down the creek to the beach in your rubber ring.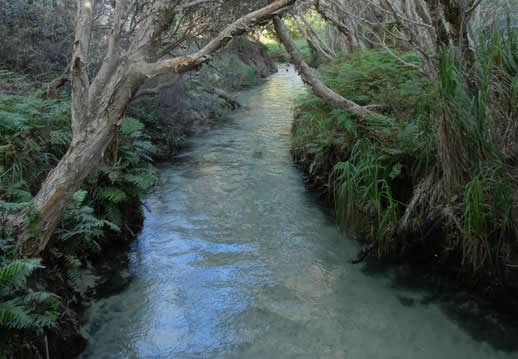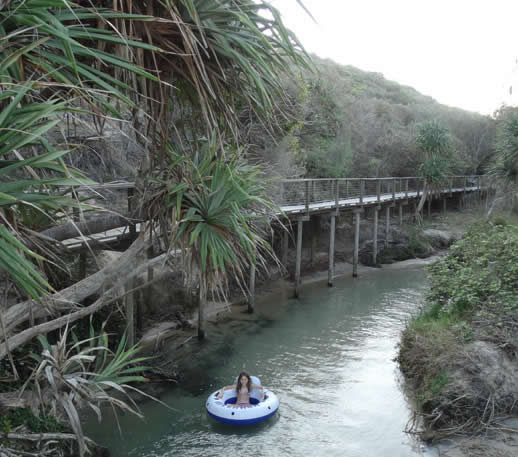 More wildlife – a handsome kookaburra at Central Station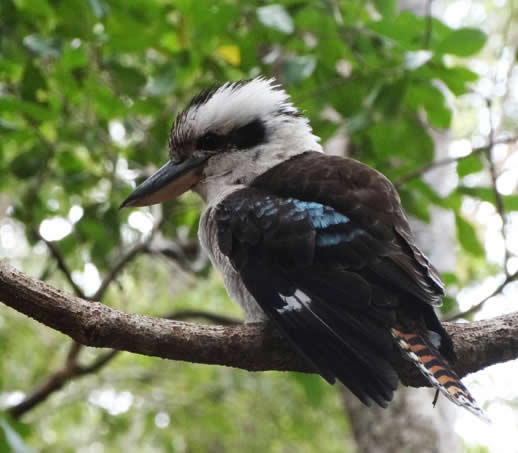 Lake Mackenzie – It's is a 60-90 minute drive inland to Lake Mackenzie on terrible roads. It had been very dry before we visited and heaps of cars got stuck in the thick sand but we managed to get there okay and so did hundreds of other people. It was a bit of a shock to see so many people there.
The water is cool and refreshing but quickly fills up with holiday makers and their blow up inflatables. Lake Mackenzie is one of Fraser Island's most famous lakes – next time I'd like to visit some of the lesser known freshwater lakes.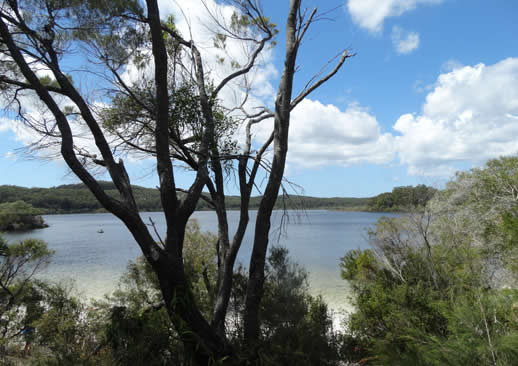 Lake Wabby – Lake Wabby is fun because you have to walk there so you feel like a real explorer and it's about a three kilometer walk from the beach which keeps a lot of Frase Island away. I took this photo using the fancy panorama setting on my new camera and it gives you a sense of the wonder of finding a lake inland on a dry sandy island.
The best way to walk to Lake Wabby is via the Hammerstone Blow and down the sand dune. You'll get so hot you'll be dying for a swim when you get there and the water is wonderfully cool. Look out for the cormorants resting on tree branches on the far side of the lake.
Make sure you don't wear any sunscreen to keep the water clean and if you bring cardboard boxes to surf down the dunes on please please take them away with you.

Fraser Island dreaming – View from the deck of our Fraser Island Beach House – can you see the double rainbow?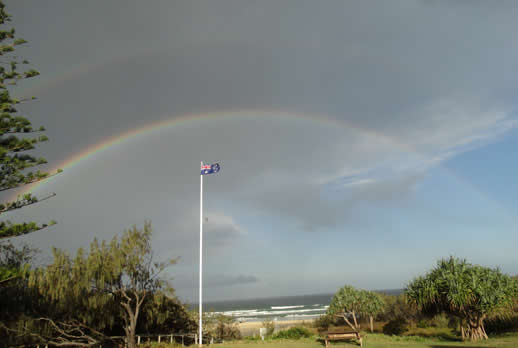 Maheno shipwreck – one of Fraser Island's most famous landmarks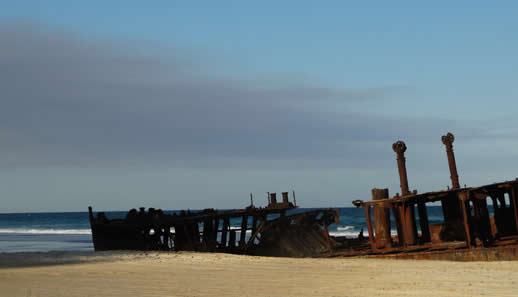 Noosa Northshore – Driving home along Noosa's Northshore brother Tom took a moment to pose with his rented 4WD pick up while the kids ran down a giant sand dune.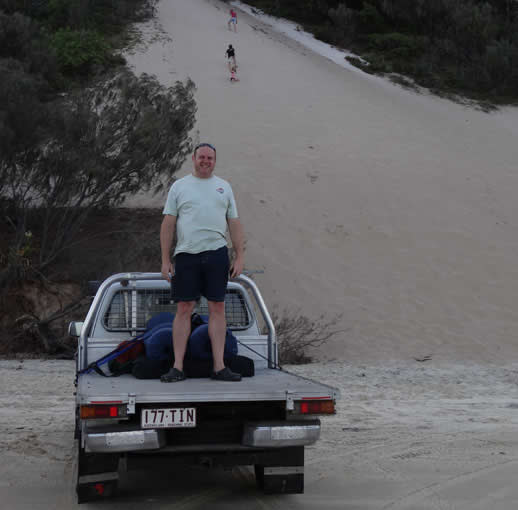 A whale waves goodbye – We saw whales aplenty blowing off off the beaches of Fraser Island but when we were driving home we got a really good view of this migrating humpack from the Noosa Northshore beach and she seemed to be waving bye bye to us which was a lovely end to our holiday.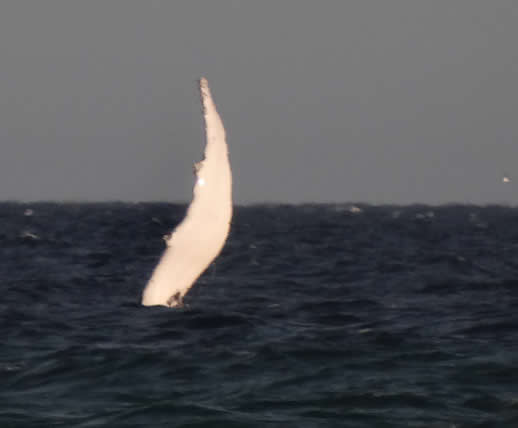 So our family holiday on Fraser Island sped by in a haze of four wheel driving, lake swimming, bush walking and wildlife viewing.
We didn't visit Champagne Pools at the top of Fraser Island this time and there are still many more lakes I'd like to visit as well as Fraser Island Resort on the western side of the island.
All in good time though, there will be other family holidays on Fraser Island I'm sure. If you like nature and wildlife Fraser Island's a good spot for a good old family holiday.
Share This Story, Choose Your Platform!