Warning! Danger Ahead: Festive Season Survival Guide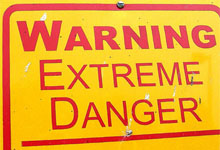 This is the most dangerous time of year. Either I feel like I've done so well over the past year that I deserve a treat, or I feel as if I haven't achieved enough which makes me want to punish myself. Either route leads to self sabotage and there are temptations all around.
It's the party season so alcohol is flowing freely, food is everywhere and the retailers are urging us to spend, spend, spend. Social pressures and exhaustion can make these temptations hard to resist.
At the end of the year we're all tired. So, so tired because there are more deadlines than ever to be met but we just want to finish things off and parcel them up neatly before the year is over.
Then there's pressure to spend time with family. Or feelings of loneliness, maybe because you're really alone and it feels like you're the only person in the world who doesn't have anyone to be with at this time of year. Or maybe, even though you are surrounded by people, you feel as if no one really understands you, no one really cares or no one even really knows you. Many people miss a loved one who's passed away more acutely now than at any other time of the year.
All the above can lead to depression and contribute to a rise in suicide rates rise over the holiday season. That's why it's such a dangerous time of the year and why we have to focus on staying safe.
So here's a quick guide to help us survive the silly season and New Year celebrations so we can avoid the usual pitfalls of drunken embarrassment, broken resolutions or family feuds refueled. So that we can meet 2014 not feeling more depressed but feeling lighter.
For the next two weeks let's just be. Let's wind down, not up. Let's let go, not let off steam by shouting or resorting to any of our usual outlets be it booze, food, shopping, sex, drugs, exercise or whatever our personal addiction is.
Here are a few guidelines I'm going to be following over the weeks ahead:
If you feel lonely even when you're surrounded by people don't worry. Just acknowledge that feeling and, if you can, find someone you can trust to share it with. Otherwise take time out to be alone and connect with yourself. Sometimes that space is all we need to cut through the sense of overwhelm or crowding and allow us to come back to people with a renewed ability to listen, make eye contact and truly connect.
If you're surrounded by people and you just want quiet time alone take it. Tell people you have to make a phone call and retire to your room or outside for a walk. You don't have to spend every minute of your holiday time with your family; it's a trap that you can easily avoid.
If you're surrounded by temptations remove yourself from the situation. Again the excuse of a phone call can get you outside or alone to meditate so you can fully notice the cravings you're having and why they've come up now. Don't expect old cravings to ever go away but do notice them when they come up and look for healthier ways to deal with them.
If you always break your New Years' resolutions don't make one this year. That way you won't have to beat yourself up for failing again.
If you think you haven't achieved enough over the past year then let go of those feelings of frustration, self hatred and disgust by sitting with them. It won't be pleasant but the only way to get rid of negative emotions is to stay with them, really experience them in all their horror and explore them. When the feelings subside take time to reflect on how realistic your expectations were, on what you can really hope to achieve in the years ahead and if those things will really make a difference or if they are just noise. Take a moment to note your achievements, what you have done and how far you've come, not just over the last year but over the course of your lifetime.
If you're surrounded by toxic people who always push your buttons and bring out the worst in you notice who they are, what they say or do that drives you nuts and try to work out why. Look at things from their point of view and try to see how they are feeling which should defuse your worst emotions. Try to see these difficulties as lessons and challenges which will help you learn about yourself and grow.
If you're stressed or worn out let people know and tell them you'll be taking a daily nap, a morning walk or meditating before breakfast every day. Stop churning over the past or worrying about the future. Read about mindfulness, start a meditation program and learn to be in the present moment. Look around you right now, check in with your breath and your surroundings and watch stress and tiredness ebb away as you see that right now life is good.
If you're trying to please everyone and make sure everyone else has a good time stop trying to be a heroine and look after yourself instead.
If you feel stuck in life and can't see any progress set smaller goals or stop setting any goals. The only reason you feel disappointed is because your expectations for the future haven't been met so all you need to do is remove expectations. Start to see every day life as an adventure with surprises around every corner. Admit you can't control life, stop trying to and you'll start enjoying the ride.
Above all let's not look to the future right now but enjoy the present. Let's recognise and congratulate ourselves on every little thing we have ever achieved and be content to just be wherever we are.
Let's remember that life with all it's problems is still the best gift there is.
Thank you for being here to experience it with me through all the ups and downs. I'm ever grateful for your unique loving presence, support and comments.
As we navigate this most dangerous time of year above all I wish you safe travels.
I look forward to watching us grow and evolve in the years ahead but for now let's agree to just be.
Happy holidays to you and yours.
xoxo Annabel
How will you survive the festive season?
PS. Apart from the final installment in my 52 Exercises Quest I'll be taking a 14 day break, going bush and enjoying the festive season as best I can.
Would you like to be more adventurous, have more fun and feel fabulous in your forties and beyond?
Get the FREE weekly newsletter for a regular boost. It's unique content you can't read on the blog with links to the latest posts so you never miss any. 

Share This Story, Choose Your Platform!