Sleeping Around: Capri by Fraser, Brisbane Hotel Review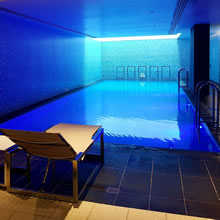 For this country mouse, it's always a thrill to hit the city, and all the more so when a romantic, child-free weekend with your beau is on the cards. Despite its downtown location, and our unfortunate tendency to drive round in circles on our sporadic forays into the city, Capri by Fraser in Brisbane is easy to find and, following the instructions emailed by the hotel, we're parked up pronto. Phew!
The lobby is bright and cheerful, the reception desk well-manned by helpful staff who smoothly handle our check in and confirm our booking at Asana, the in-house restaurant.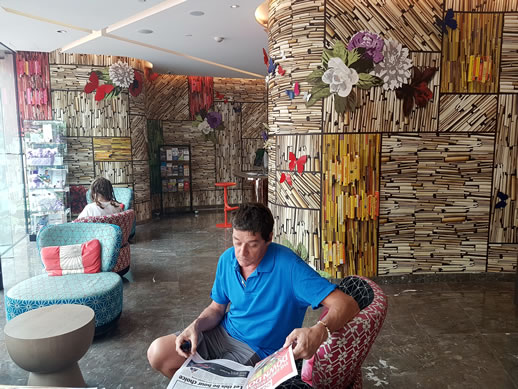 Rooms
Our studio deluxe room is also bright and cheerful with blueberry cushions on the king-sized bed, a lime coffee maker and lemon and plum mosaic tiles in the roomy bathroom.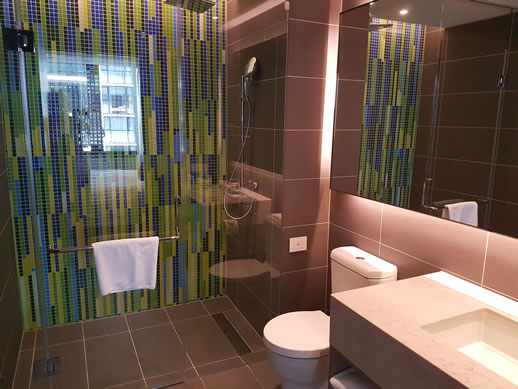 A quick once over finds the kitchenette is well-stocked with cups, plates, bowls, cutlery, fridge and microwave, so we can make a meal in our room if we so desire. We don't, but a cup of tea always goes down a treat so we share the single Earl Grey tea bag. Rich likes his brew weak and I prefer mine strong so it works out fine.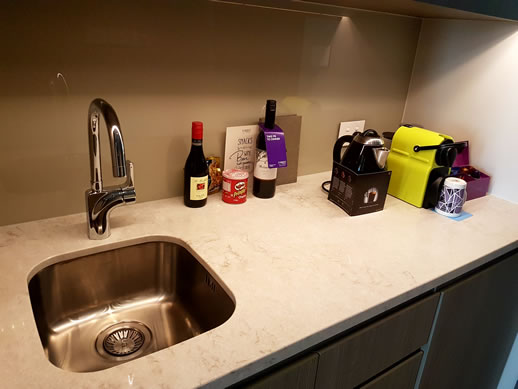 There are two waffle dressing gowns and a pair of towelling slippers in the cupboard. On the wall opposite the bed there's a large TV which I hope will never be turned on. We have other activities in mind.
Location
Capri by Fraser is just three blocks from the Queen Street Mall, so shopping opportunities abound and the January sales are in full swing. Rich is over-joyed to find some Scotch and Soda shirts on sale at half price. He snaps them up.
The Botanical Gardens and Brisbane River are just a block away and we enjoy wandering round the park and along the shady walkways by the sludge brown river.
Facilities
It's a scorching summer afternoon and the indoor pool is cool, inviting and far bigger than it looks on the hotel website. There's a separate sauna and steam room for men and women but a cleaner says it's okay for Rich to join me in the women's area.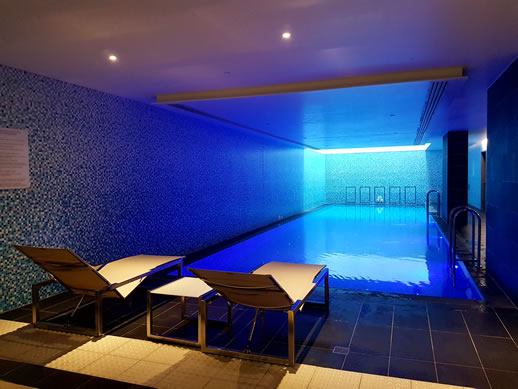 There's no one else there and, after cooling down in the pool, we take perverse pleasure in over-heating ourselves again. Only when the sweat is coursing down us do we shower and immerse ourselves back in the pool. The refreshing water feels better than ever second time round.
Eat & Drink
There are heaps of eateries right on our doorstep, from cheap Asian restaurants along Albert Street to fancier waterfront venues on the river, but we are here to try Asana, the in-house restaurant.
Asana is headed by celebrity chef and paleo hero Pete Evans, who rose to fame on the My Kitchen Rules show – he's got a face made for TV. The restaurant showcases his love of healthy, nutritional cooking based around the paleo principles of eating fresh, high-quality ingredients without any unhealthy grains, sugars or oils.
Like the hotel, the restaurant feels vibrant and fresh with yellow chairs, a green living wall and orange orbs lighting the room.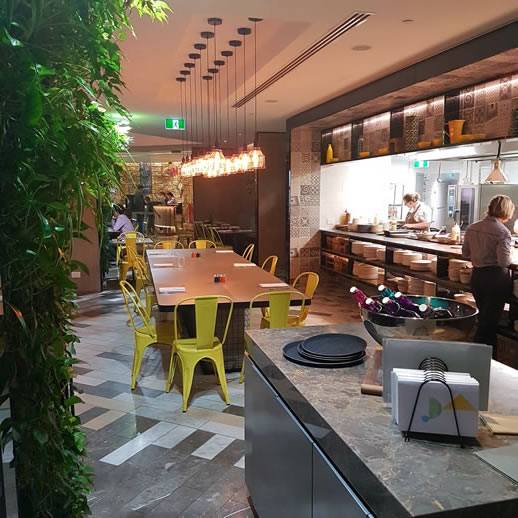 While we like to eat healthy and have dabbled in paleo eating ourselves, we're excited to try the real thing cooked by the Aussie king of paleo.
Rich starts with a Japanese-inspired chicken karaage served with yuzu mayonnaise and wakame salad. The chicken is golden and crispy, a perfect contrast to the salad which looks and tastes more natural than the puce-colored seaweed salad served in high street sushi joints. Clearly this is the real deal with no added sugar or colorings.
My prawn salad with avocado, finger limes and ruby grapefruit presents beautifully and is delicately flavoured. The dressing is minimal so the fresh flavours can be fully appreciated.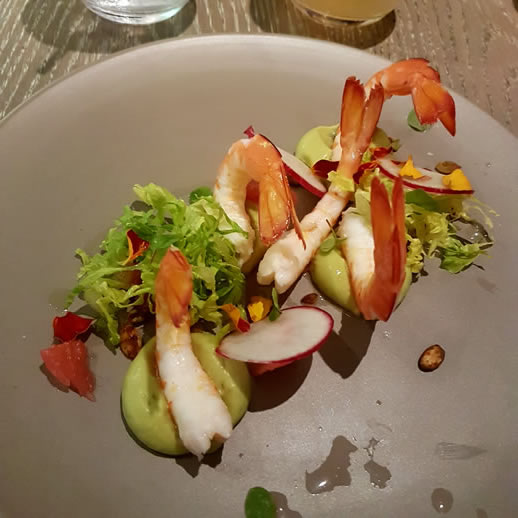 Rich chooses the grass-fed beef fillet, bone marrow and chimichurri for his main course. The marrow is served in a massive bone which I find a bit confronting, but Rich is not phased.
My Asana paella with cauliflower rice, shellfish, squid chorizo and saffron is served in a miniature paella dish. It's tasty, and I enjoy sampling cauliflower rice for the first time, but can't help thinking the Spanish classic works best with regular rice.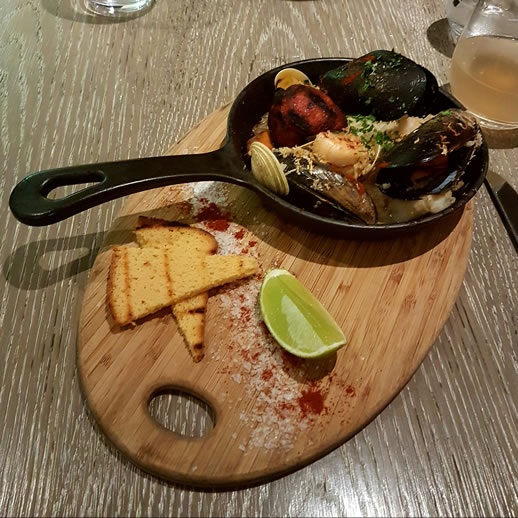 Rich and I are both happy with the serving sizes which leave us perfectly full but not overfull, so dessert remains a possibility. Oh, who am I kidding. I've got a sweet tooth and would never pass up pudding.
Rich rates his steak highly but the Asana dessert tasting plate is my personal highlight. The espresso and coconut parfait acts as a bitter foil to the toasted marshmallow and candied walnuts. The caramel tart, topped with a fermented strawberry, is the kind of sweet treat I was worried I wouldn't find in this health food haven.
However, the warm chocolate pudding with salted caramel and coconut ice-cream and maple pecan brittle is the star. The tasting platter is designed to be shared by up to four people but I'm happy I only have to share it with Rich.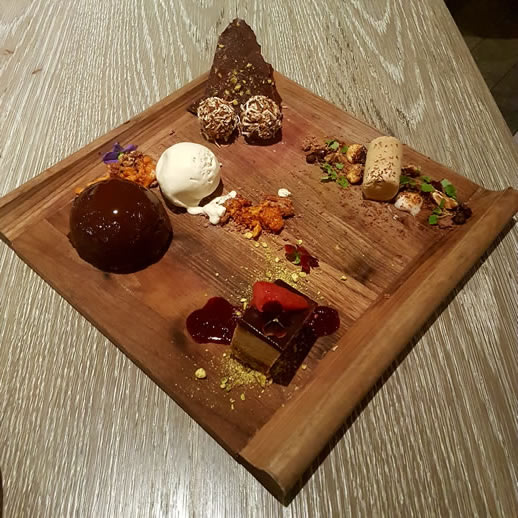 We stroll around the city afterwards and revel in the fact there's only one thing left for us to try in the hotel: the bed.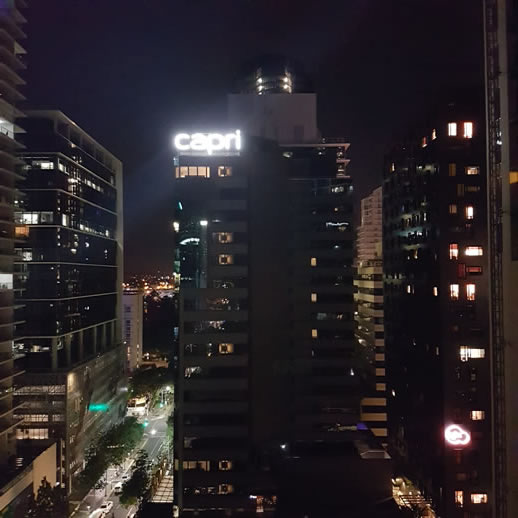 Sleep
After the best night's sleep I've had this summer, in part thanks to the blackout curtains, the double glazing and air-conditioning, I have no trouble getting up early to join the South Bank parkrun just a ten minute trot from the hotel.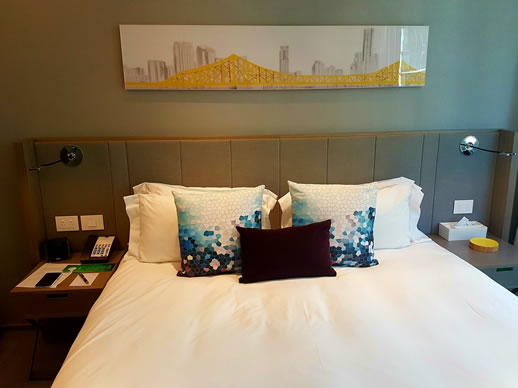 Breakfast
My 5km time is terrible but there are plenty of excuses. Even at 7am, the sun is beating down and, no matter how healthy the Asana meal was, I probably ate more than I should have. I'm unrepentant.
Run done, I'm soon back at the hotel where the Saturday papers await. After another swim, a game of foosball and a good read we head back to Asana for breakfast.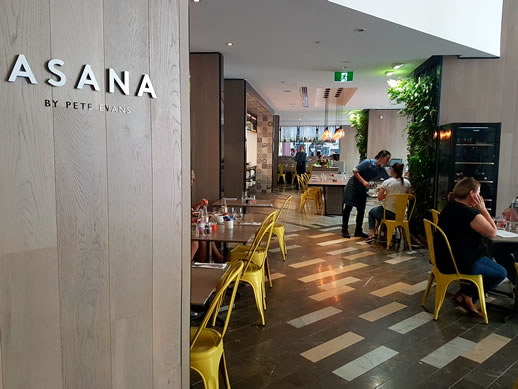 The breakfast buffet is good enough to convert even the most sceptic to paleo-style eating. There's plenty of crispy bacon, a popular paleo staple, along with the sausages, scrambled free range eggs and mushrooms.
Best of all is the paleo muesli and the gluten free paleo breads, especially the seed and nut loaf and banana bread. I vow to track down the recipes for these things and attempt to replicate them at home.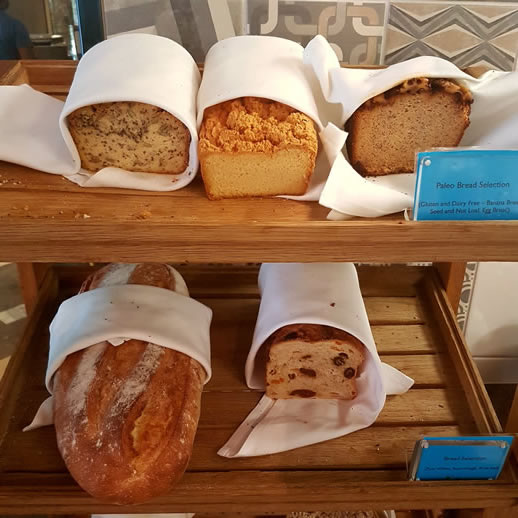 Our stay at Capri by Fraser and meals at Asana have given us a taste for fresh, vibrant city living, but all good things must come to an end. On the drive home, we country mice agree that, when you do it right, city life can be fabulous too.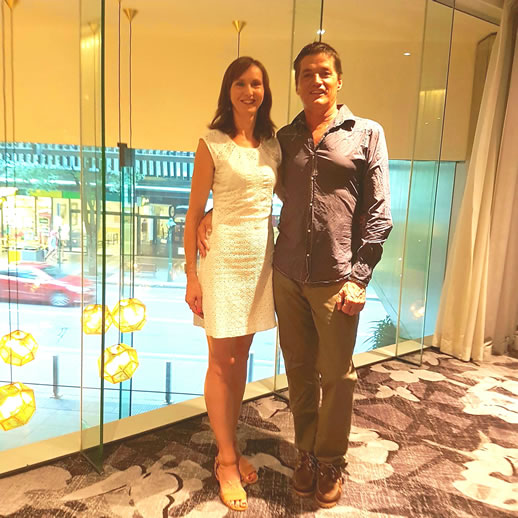 Stand outs
Best and biggest gym I've ever seen in a hotel – too bad I didn't have time to use it.
Fun foosball table and Xbox for playtime.
Sauna, steam room and indoor pool which make the hotel feel like a health spa without a hefty price tag.
Big bathroom with rain shower.
Coffee machine in room and at breakfast and huge selection of T2 tea bags at the breakfast buffet.
Free washing machines and dryers so I could wash my running gear immediately after use.
Malin+Goetz toiletries.
Buffet breakfast at Asana – even though handsome Pete was nowhere to be seen.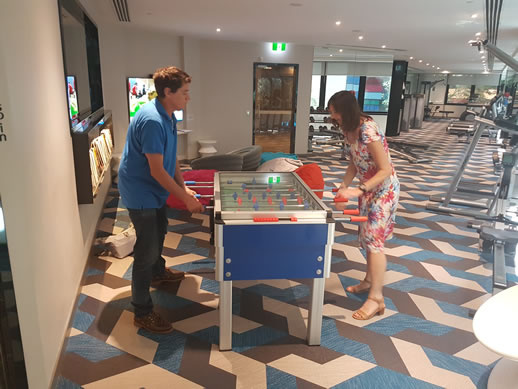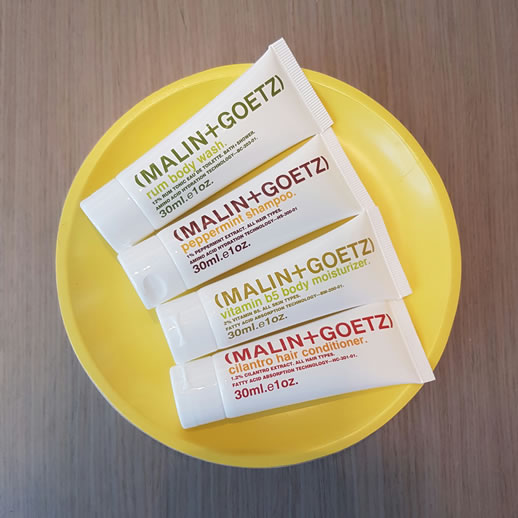 First world problems
Only one Earl Grey tea bag in the room, although I'm sure we could have asked for more.
No greens offered in the side dishes at Asana.
I prefer regular rice to cauliflower rice.
OVERVIEW
Star rating: Not officially rated yet but it warrants five stars.
Price indication: Rates start from $149/room/night. Visit the Capri by Fraser website for full rates and package deals.
Value for money: Excellent based on fabulous service, location, surroundings and facilities.
WiFi: Free
Parking: Included free (along with breakfast) with some special packages.
Memorability: 8/10 – With it's fresh, bold colour scheme and fabulous sauna, steam room, gym and pool, Capri by Fraser stands out from the crowd.
Ideal for: Couples, romantic city breaks and girlfriend getaways.
I was given a guest of Capri by Fraser during my stay. All opinions are my own. See full disclosure for more details. 
Get the FREE weekly newsletter
Join thousands of happy readers of Get In the Hot Spot's weekly newsletter to help you travel more and feel great. Click here to subscribe now.
Share This Story, Choose Your Platform!