Candys in Canberra: Meeting an Aussie Sports Star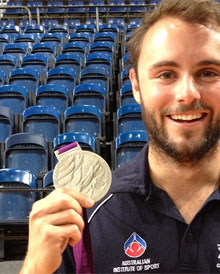 Australian English is characterised by long words being shortened and an 'o' being added to the end. So a documentary becomes a docu, vegetarian vego, and, with a small adjustment, afternoon becomes arvo.
My friends in England scoff when I say avo (not arvo, that's different)  but I can't believe that everyone in England can be bothered to enunciate all four syllables of avocado when two will do.
So, when we talked at the Australian Institute of Sport (AIS) in Canberra, Scott Reardon was impressed when I immediately understood that his Twitter handle is ScottReardo.
Despite my plummy British accent I speak fluent Australian now.
But that was the only part where he was impressed by me. Mostly he impressed me.
You see, my sporting prowess begins and ends at the Queen's Silver Jubilee celebrations in our village in 1977 when I came first in the skipping race. I still have the rosette. It ends there too.
But when Scott was young he lost one leg in a farming accident. He was working on the farm with his brother when one of his legs got caught in the machinery and ripped off. Scott can't remember that bit but he did stay conscious while his brother applied an improvised tourniquet and drove him home back to their farm-house. From there it was another long journey, by vehicle and or plane, to hospital where Scott was operated on.
Not many people survive an accident like that. Too much blood loss. But Scott did.
He was just a teenager then. We didn't speak of the operation or operations and rehabilitation but skipped on 10 years to now, when Scott is a thriving sportsman, happily sponsored with several different artificial legs for each different purpose.
Apparently the running leg is the cheapest but the leg for every day use, including showing people round AIS, costs a lot and, since they get a regular workout, all Scott's legs need replacing regularly.
Scott's been a sports star for a while and is unique because he's evolved from being a champion waterskiier to a sprinter and but he's not done yet. He will be running for gold in Rio in 2016 and we will be watching.
It was another busy day in Canberra but I remember Reardo well.
We were guests of Visit Canberra and stayed at the award-winning Clifton Suites during our travels in Canberra. To find out more about traveling to Canberra, with or without kids, check out The Human Brochure website. 
Share This Story, Choose Your Platform!