Camino de Santiago Walk in Spain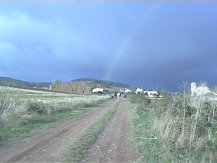 Looking for travel tips and things to see and do on the Camino de Santiago walk or pilgrimage in Spain?
It sounds amazing so today we're visiting the Camino de Santiago as part of our World's Best Travel Destinations series with travel lover Cara Bertoia as our guide.
Here Cara answers all your questions and spills the beans on the very best things to see and do along the Camino de Santiago, including where to shop, what to eat and how to get the most of your trip to Spain.
So tell me Cara, what's the low down on the Camino de Santiago walk? Where did you go and how long did you stay?
We walked The Camino De Santiago, a 500 mile path across northern Spain which has attracted pilgrims for more than a thousand years. The Camino leads to the tomb of St. James in Santiago, a beautiful walled city.
In medieval times so many Pilgrims were said to be cured by walking to Santiago that it became the most popular of the three major pilgrimage sites, including Rome and Jerusalem. As recently as 2005, 93,921 people walked the Camino, some in search of a cure, but the majority for the love of walking.
Why do you rate the Camino de Santiago walk as one of the world's best travel destinations and how did you get there?
To begin our journey, my husband and I flew into Madrid, and then took a bus to Roncesvalles, a picturesque mountain village on the French border. This is the official beginning of the Camino in Spain. At the monastery there, we received the Camino Passport, which is stamped by hotels and churches all along the way.
Pilgrims must present their stamped passports in Santiago to receive The Certificate de Compestela proving that they walked the Camino. The challenge of the walk and the opportunity to share that adventure with people from all over the world are what make the Camino de Santiago such a unique destination.
What do you do when you walk the Camino de Santiago?
This was to be truly the hardest and yet most rewarding experience of my life because it taught me anything is possible if you have the right attitude and good health.
Having immersed myself in historical novels when I was young, following this path by foot was truly like stepping back in time. The Camino is designed to pass along medieval paths and roads and to bypass major roads and highways, so most of the day is spent walking through beautiful woods and fields. One passes through three or four villages a day that look as they did in the tenth century.
There are also major cities such as Pamplona, Logrono and Burgos on the route, which are great places to take rest days.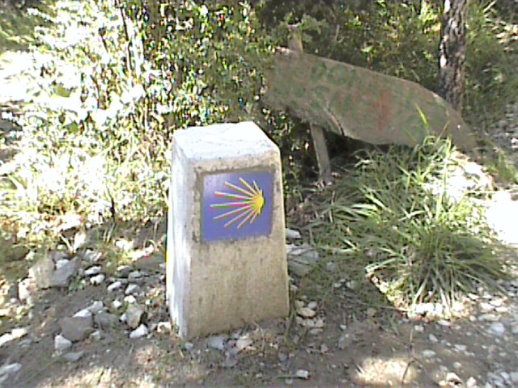 An average day on the Camino would see us waking up early, packing our backpacks, putting on our hiking boots, picking up our walking sticks,and being on our way. The path is marked by yellow guide posts showing the way. After walking for a few hours,
we'd stop for thick Spanish hot chocolate and a pastry. Later we would lunch on fresh bread and ham to fortify us for the next five miles. We would reach our destination around 4 p.m., having walked between 10 and 15 miles, check into a hotel, and then soak in a tub.
What are some of your Camino de Santiago travel tips?
This is not a tour. Pilgrims arrive independently and walk in small groups or on their own. The Spanish government, which helped revive the Camino in the '80s, provides a series of refugios – hotels along the way, as well. The refugios, or hostels, are strictly first come, first-served – and unisex, a new experience for most Americans, but quite common to Europeans. If a dormitory is not your style, a charming hotel room with all the amenities was less than $50 a day.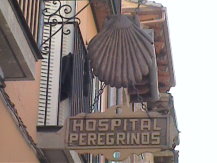 What is the best way to get around?
The major way to get around is by foot, but if someone is unable to walk there are buses or taxis available to take them to destinations along the way.
Where should I eat while walking the Camino de Santiago?
During the day we would dine on pastries and ham sandwiches which can be found at cafes along the path. Spaniards are late diners, around 8 p.m., the restaurants would open. Look for the menu boards advertising the pilgrim's specials. A typical pilgrim's meal,
consists of three courses and a bottle of wine. After a long day's walk, nothing could have been better. And it was great not to hear the word "diet" for six weeks!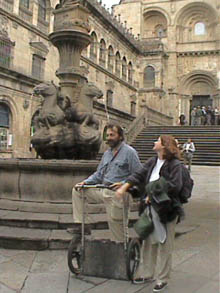 My best memories of the pilgrimage walk are the people we met along the way.

Most of the pilgrims were from Europe, Australia,and Brazil. Although our Spanish was rudimentary, we had no problems communicating. While over 50% of the walkers were between ages 30 to 60, many were over 60. The numbers of women, many of whom walked alone, reinforced what I felt about having a good attitude. Most were world travelers with interesting careers.
To the Europeans, walking is no big deal; it's an intrinsic part of their lives. And walking the Camino is very safe, partly because the
Spanish people believe it is good luck to befriend a pilgrim. We are still in touch with friends we made on this Journey. Be sure to go to the restaurant Cara de Manolo in Santiago, this is a great place for pilgrims to share their stories of accomplishing their goal of waling 500 miles.
A Secret Camino de Santiago Travel Tip
When you get to Santiago you will show your Camino Passport to get a certificate of Compastela that shows you have walked the Camino. Before you get your certificate buy a protective cover from the shop across the street.
Thank you Cara. So what's the final word on the Camino de Santiago walk?
The Camino changed our lives in so many ways that are hard to express in words. In order to share our memories and show others what the trail is like. We have made a video of our journey, the Camino de Santiago Walkers Guide.
This is a guest post by Cara Bertoia 
Cara Bertoia learned to love travel when she worked on a luxury cruise ship. She returned from ships with a very special souvenir, her husband Ray. Besides being a handsome Glaswegian, he is her co-author of Cruise Quarters – A Novel About Casinos and Cruise Ships. Cara and Ray recently produced a movie on doing the 500-mile Camino De Santiago Walk, in Spain. They now live in Palm Springs you can tweet Cara at @carabertoia.
Share This Story, Choose Your Platform!