World's Best Travel Destinations – Barbados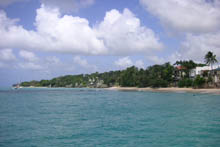 Are you dreaming of Barbados  and thinking about what you'll see and do when you get there? It's been a long held day dream of mine to visit the Caribbean one day and in particular Barbados which sounds blissfully beautiful and laid back.
So today we're visiting the Barbados as part of our World's Best Travel Destinations series with world traveler and writer Sharon Hurley Hall from Get Paid to Write Online as our guide.
I confess I'm just a teeny weeny bit jealous of Sharon because she's lucky enough to live in Barbados but rather than just sit around gnashing my teeth with envy I decided to do what I do best – mine Sharon for all her hottest Barbados travel tips so I'm all prepared for when I actually go there. Because i t will happen one day.
So here Sharon answers all our questions and spills the beans on the very best things to see and do in Barbados, including where to shop, what to eat and how to get the most of your trip to the Barbados.
Thank you so much for joining us on Get In the Hot Spot Sharon.  It's hard to think of a more iconic travel destination than Barbados so please tell us why you first went to Barbados and how long you've spent there?
I know Barbados well, having lived there for part of my childhood. It's remained one of my favorite destinations. Until I moved to the Caribbean, I visited often for periods of 2-3 weeks at a time. Now I'm there most of the year.
Why do you rate Barbados as one of the world's best travel destinations?
Barbados has a lot going for it. The weather is fantastic – it's warm all year round; the beaches are out of this world with beautifully clear water – you may never want to visit a crowded European beach again after swimming in Barbados.
There's enough to do if you like activity but it's totally laid back if you want to lounge around. And it's a safe, stable society. I also love the contrast between the Caribbean Sea side, which is calm and placid and the wilder Atlantic on the East side of the island. Add to that the combination of Caribbean flair with a tinge of British heritage and you have a really interesting cultural mix.
Best Things to Do in Barbados
The most fun I've had recently has been paddle-boarding on the Caribbean Sea with Paddle Barbados, but there's lots more. There are the usual ocean activities such as scuba diving, water skiing, jet skiing and the glass bottomed boat. There's para-sailing  a helicopter tour and much more. One of my personal faves is the Atlantis submarine which lets you see the marine life, coral and shipwrecks up close. I've been on that 3 or 4 times and can't wait to go again!
Apart from those activities, another good way to enjoy the island is to walk the board-walk which runs alongside the beach (either on the South or West coast)  and take in the sea air while getting healthy. Don't worry; there are plenty of places to stop and grab a drink if the heat gets to you! And you can always leave the path for a dip in the sea – magic!
Best Places to See in  Barbados
This could be a long list, but here are some of my perennial favorites:
The Barbados Wildlife Reserve – a place where you can be in the cool even in the middle of the day and enjoy seeing the green monkeys, peacocks, deer, iguanas and other wildlife.
The Foursquare Distillery Rum Tour – while there are others, I find this one best because you get to see the whole process close up.
The Parliamentary Museum – the most modern museum on the island, housed on the site of the third oldest Parliament in the world. It's a good way to explore history through interactive displays – and there's artwork too. If you like history, the Barbados Museum is also worth a look – my favorite part is the map room.
Oistins Fish Fry – you won't get any fish fresher than this on the island. Visit on Thursday, Friday (best) or Saturday for bags of atmosphere, Caribbean music, souvenir shopping and delicious food.
Earthworks Pottery is a great place for local, handmade craft – you won't find anything like it anywhere else. And if you're there at the right time, you can try your hand at turning the potter's wheel. There's also a good souvenir shop next door linked to the Ins and Outs of Barbados Guide – a great place to find photos of old Barbados, if that's your bag.
If you're in Barbados during the sugar cane harvest, visit the Portvale Sugar Museum to see ancient and modern sugar production techniques. Related to that,  the Morgan Lewis Mill makes a great side trip, but it's only open a few days a year. It's an old fashioned sugar mill and you can try freshly ground cane juice. Be warned, it's an acquired taste.
Places to Stay in Barbados
Not many people can afford to stay at 7-star Sandy Lane (yes, I did say 7 stars) where even the cheapest room will set you back US$1,000+ a night, so here are a couple of more affordable choices.
Couples will enjoy the Sugar Cane Club in St. Peter not far from Speightstown. Children are welcome, but only if they are over 12.
The Bougainvillea Hotel on the South Coast is great for families with a couple of nice restaurants, access to the beach, a nice pool and friendly staff.
And there's also the option of booking a self-catering cottage on the South Coast. If you take that option, make sure you're near a bus route.
What and where should I eat?
There are lots of restaurants and cafes on the island serving up every possible type of international cuisine from Asian Fusion to Greek to Thai. My favorite eating establishments combine good value with good local food.
For coffee and snacks try any of the Coffee Italia chain – there are several around the island. The Coffee Bean is a good alternative.
At the affordable end is Just Grillin which serves a range of freshly cooked local fish, chicken and burgers with your choice of side orders for approximately US$15-20. It's filling and delicious. There's one on each coast, so take your pick.
Not far from the Hilton Hotel is a food van that has made the international press for quality – Cuz's. You can get freshly made fish, egg or cheese sandwiches or a combo of all three and wash it down with a cold drink – it's delicious!
On the South Coast, the Surfers Café serves up ocean views along with a great breakfast or lunch.
If you want something more upmarket, check out Champers on the South Coast for great sea views and a delicious menu.
And if money is no object then there's the Cliff on the West Coast which overlooks the sea. You will need a small mortgage to eat there but people rave about the atmosphere.
Shopping for souvenirs
Souvenirs are available in all kinds of places. I mentioned the Oistins Fish Fry where there are vendors selling a range of goods including jewellery  footwear, T-shirts and artwork, many items made from local materials. These vendors travel around, so you are likely to spot one or two of them in other locations as you tour the island.
If you need a bigger shop, then check out the Best of Barbados chain for traditional souvenirs – dish towels, coasters, T-shirts and so on. The local department store, Cave Shepherd, also stocks a wide range of gift items. There are branches in the main towns, Bridgetown (the capital), on the West Coast and on the South Coast.
Special events in Barbados
The big annual event in Barbados is Crop Over, which was once a couple of days marking the end of the sugar cane harvest. Now it's a month or more of activities, starting in July and ending with a carnival parade on the first Monday in August. As part of that there is a lot of emphasis on local arts and culture, particularly in the calypso tents, where singers chronicle the events in society in a humorous way.
Getting Around
If you don't mind some adventure and are near a main road, then you can take either the official buses (mainly blue with a yellow stripe) or the minibuses (yellow with a blue stripe or white) to get around. It costs US$1 per trip. If you're inland, then it's a good idea to hire a car, but that's not cheap, with the best price usually starting at US$350 a week. The best option, cost-wise, is to hire a car for part of your visit so you can explore the extremes and stick to buses for the rest of your stay.
Getting connected
Many hotels and guest houses have free WiFi for guests and many of the island's coffee shops do too, so getting connected is rarely a problem. If you have an unlocked phone, then visit Digicel or LIME (there are shops around the island) to pick up a SIM card – it will be cheaper than roaming fees or phoning from the hotel. Just so you know, local phone calls are free and most places don't mind letting you use the phone.
When to Go and How to Get There
Most of the time I fly into Barbados from London, New York or Miami and there are regular flights every day. You can also reach the island by cruise ship or, if you sail, on a boat or yacht.
Barbados is a great year-round destination, with temperatures of 28-33 Celsius during the day. but here are some guidelines for the best times to visit. Price-wise, the high season is November – April. Not surprisingly, that's also the best time to visit if you find summer heat unbearable.
August is sticky – don't say I didn't warn you – though nowhere near as hot as mainland Spain at the same time of year. Low season, price wise is May to October.  February to May tends to be hot and dry so it's a good time to visit.
Although trip advice mentions the hurricane season, Barbados is to the east of the island chain and rarely gets more than a bit of rain. The last serious hurricane was in 1955 so even in hurricane season it's not usually a worry.
My Best Barbados Memory
My best memory of Barbados when my husband proposed to me in the middle of the water at Browne's Beach. You can see why that would be special! ;) And it just happens to be one of the best beaches on the island – better than the beaches at Accra or Sandy Lane which are always in the guidebooks. White sand and clear water – it's one of the things that Barbados is all about!
Wow! It sounds gorgeous and what a romantic hubby you have. I'm definitely hanging out to go to Barbados and Browne's Beach now. Thank you again for sharing your travel tips with us Sharon, hopefully we'll see you one day in Barbados.
Guest post by Sharon Hurley Hall
Sharon Hurley Hall is a professional writer and blogger. Born in England, she has traveled in Europe, America and the Caribbean. She runs a writer mentoring blog, Get Paid to Write Online and a travel blog, Barbados Caribbean Travel. Find her on Twitter and Google+.
Share This Story, Choose Your Platform!