5 Reasons I Love Audible Listening Books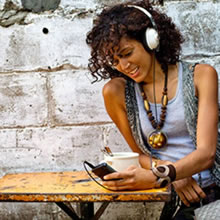 Despite being an avid reader, who can plough through a book a week, I resisted the lure of audio books for years.
I love actually reading a physical book. I'm old fashioned like that. I avoid ebooks because paperbacks are the perfect portable entertainment device.
I get drowsy reading in bed and switch off the light after 20 minutes of reading. That's how I wind down.
Ebooks keep me awake or run out of charge. Print books are reliable friends and, until recently, I viewed audio books with distrust. But when I finally tried them I found I loved them.
For last 12 months I've been listening to audio books. I've developed a new healthy addiction which I don't want to quit.
It all started with an offer to trial the Audible membership program for free. They currently have a new, possibly better, offer where you can try Audible and get two free Audiobooks.
The offer coincided with a new job which involved a 30-minute commute meaning 60 minutes in the car.
Since I usually work from home, with zero commute, I resented that time.
Then I tried my first audio book while driving to and from work and it got me hooked. Since then, I've listened to 12 audio books and loved it. Here's why:
1. More books read and expanded reading
Since I fall asleep at night soon after I start reading I can only read for a short period each day. But with listening books I can listen anytime. And since I don't generally fall asleep while driving or cooking I read more books now… or listen to them, which is just as good. Maybe even better.
I also listen to different books than I'd normally read and read more broadly.
It all started with The Windup Bird Chronicles by Haruki Murakami. Japanese author, Murakami, is an amazing writer and he's amassed a global cult following but it's a weird book. I'm not sure I could have read the whole thing. But the Audible narrator got me hooked and I couldn't get enough of it.
I started to look forward to the drives to and from work just so I could listen to the book. That's how I got hooked on audio books.
2. Listen anytime, anywhere
There's no dead time when you've got an audio book to listen to and we've always got our phones on us. I listen while I drive, cook and stretch. I stretch a lot more now because stretching is no longer boring.
I know silence is good for us, but sometimes listening is better.
If I'm loving the book I'll even listen in the shower, while I hang the laundry and during siesta times at weekends. The Audible app has a sleep setting so it automatically stops after a set number of minutes.
3. Bring books to life
The Audible narrators are all professional actors or voiceover artists. Their voices, accents and inflections bring the story to life.
Listening adds drama and pulls you into the story. It brings a whole  new dimension to reading.
I've decided that some books are probably better to listen to than to read.
4. Easy to use
The books are easy to choose because you can browse by category, read reviews and get suggestions based on your personal taste.
When you've chosen a book you just click a button to buy it then download it onto your phone.
If you don't like the book you can just swap it for another.
5. Good value
For $14.95 per month you can download one Audible book every month. One book of about 10-12 hours lasts me a month. Unless I'm commuting, in which case I have time for something longer like the 26 hour Wind-Up Bird Chronicles.
Want to try Audible?
I've become an affiliate because I love it, so I get a small kickback if you decide to join. There's no extra cost for you but it helps support this site so I appreciate your support.
Share This Story, Choose Your Platform!