On Embracing Change and Being Goal-Focused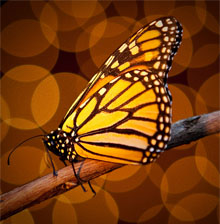 "Progress is impossible without change, and those who cannot change their minds cannot change anything." George Bernard Shaw
Do you get bored easily? I do. That's why I wrote how to shake up your life and maybe that's why I've always got itchy feet. But surely a low boredom threshold is a good thing? Change is great – no one should ever accept the status quo or get stuck in a rut. If you do you have to pull yourself out fast before you get bogged down for good. Before it gets really bad and you need someone to tow you out.
Warning: Change is Coming
This is my round about way of saying there are going to be some changes here soon. Good ones.
Almost a year ago I wondered if I should set up a separate blog for my internet marketing tips so Get In the Hot Spot could be devoted to travel and adventure or if I could cover both topics on one blog. After much pondering and weighing up advice from top blogging mentors I decided to keep all my writing in one place and focus my energies on one blog.
It was the right decision at the time but that's how we ended up here with a blog that covers such diverse topics as travel and business. And let's not forget the smile section either because if I can't have fun I don't want to do it.
But what's happened at Get In the Hot Spot is a metamorphosis from an experimental hang out, where I write epic travel stories and goad us on to greater adventures, to a place where the main focus is business and blogging. Of course that evolution has been driven by my dear readers but  many readers still want to read about travel here and I still want to write about travel and spin a few good yarns.
The Focus is Tightening
So the time has come for me to create a clear division.
I'm going to take all the posts about blogging and business off Get In the Hot Spot and create a happy home for them and for all you dynamic bloggers at Successful Blogging.
Meanwhile Get In the Hot Spot will go back to it's original goal of inspiring and motivating people to live their dream. I plan to tighten the focus here on people who dream of travel, writing and story-telling. I want to connect here with adventurous people who love to read and write about travel or have their own stories to tell too. I hope that sounds as good to you as it does to me.
Just Between You and Me
I haven't officially launched Successful Blogging yet but the blog is live and I'd love your feedback. Let me know if you spot any typos and I'll promise you my next born child.
In the mean time I'll be beavering away giving Get In the Hot Spot another makeover. Not to the way it looks but cleaning and purging all irrelevant and outdated content so it's totally focused on travel, writing and journeys of self discovery. Please bear with me as this will take a bit of time but I wanted to let you know what the grand plan is.
I hope you'll continue to join me here or at Successful Blogging. Or even better hang out with me at both of them.
Another Great Excuse For a Party
Stay tuned here because when I do launch Successful Blogging I'll be having a celebration with one of my special patented web parties and a giveaway of my Successful Blogging book and blog consultations.
And I'm looking forward to sharing some off beat travel tales here soon including my classic story of a bad trip in Greece. Yes, that kind of trip.
The blogging  journey has been a joy for me from start to finish, apart from the bits where I cried with frustration of course. I'm really excited about these plans and I hope you'll be joining me for the next phase.
It's much simpler this way. We now have Successful Blogging for work and Get In the Hot Spot for play.
Thank you for your patience during the transition.
And finally, because sitting at the computer is bad for us and should be counteracted by having a laugh while you're there, I leave you with a quote:
Change is inevitable – except from a vending machine
Robert C. Gallagher
Are you changing? Making progress? Tightening your focus? I'd love to hear how your life, business, writing or blog is evolving and get your feedback on my plans.
Photo credit: nickwheeleroz
Share This Story, Choose Your Platform!