52 Exercises: #36 Salsa Party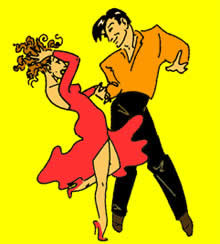 Body language is important so before moving to Central America I spent way more time learning to salsa than I did learning to speak Spanish. Unfortunately when I got there I discovered that salsa was old hat and reggaeton music was where it was at. No one was even listening to salsa music in Central America in 2009, let alone dancing to it.
Also the harsh reality of life is that being able to tell taxi drivers where you want to go, haggling with shop keepers and sweet talking immigration officials is more important than being able to move your feet in time to the beat and swing your hips in an alluring manner. Especially when you get to my age.
So during  our 18 month stay in Costa Rica I only got to dance salsa once and then very drunkenly with the waiters and waitresses at an after hours party at a friend's restaurant. It was fun but suffice to say my spanish is now better than my salsa dancing.
Non-the-less I still like to dance and I love Latino music  so I decided to skip the gym and exercise classes and look to the night life of Noosa for this week's exercise.
I'd heard a  lot about the Latino Lounge every Wednesday night at one of Noosa's best loved restaurants Bistro C and it was time for me to check it out.
Me and some friends got there early and settled in by the dance floor, with them sipping merrily away on mojitos and margaritas while I nursed a soda water. I've been booze free since January and don't miss a wee tipple at all except on nights like this.
Dancing is always easier with a few drinks under the belt to loosen the inhibitions but tonight I would be dancing sober.
We were reliably informed that a professional dancer would be busting her moves and performing a back flip at 7.30pm prompt which sounded like something not to be missed.
The dancing started authentically late but sure enough a hot chick in a little red cut out dress was soon being swirled around on the dance floor by a dashing young man in braces while flashing a big smile and a small pair of knickers.  Go Anthea. La fiesta had kicked off.
As soon as the dance demo finished we joined them on the dance floor. My friends had gone outside to eat so suddenly I was dancing with a bunch of strangers. I felt a bit stiff and awkward but then another glamorous lady in a red dress who introduced herself as Marama grabbed my hand and got me up to speed.
She somehow danced the salsa looking regal, relaxed and raunchy at the same time. I like to think that a little bit of her style rubbed off on me.
It was hot now and tiring but then someone started a conga, Anthea, the hot chick in the red dress grabbed me and soon I was in the middle of the conga line careering round the restaurant under the watchful eye of several hundred diners.
Next thing I knew I was dancing with a stranger from Melbourne. I found my friends again and grooved with them some more before  heading out of the door at 9,30pm. That's the perfect night out for me and I still managed to be home in bed with Rich by 10.
So you don't need a dance partner, cocktails or a little red dress to practice the body language of love and dance the salsa. Although I don't think it would hurt.
Share This Story, Choose Your Platform!