52 Exercises: #5 Ice-Skating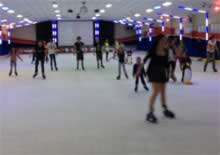 While I am sweating out the Australian summer in soaring temperatures and energy-sapping humidity you northern hemisphere dwellers are probably freezing your buns off, cowering inside and eating constantly. I know that's what I do during long winters in cold climates.
So to make things fair this week for our 52 Exercises quest I indulged in some cold weather activities which you may be able to try wherever you live.
The last time I went ice-skating it was for my 11th birthday party. Mum and Dad bundled six girls in the car with no seat belts and a few of us rattling round in the boot. Amazingly all got home safely with pink cheeks, a sense of dare-doing and no broken bones.
Now my kids wanted to try ice-skating too and happily the closest roller-drome also doubles up as an ice-skating rink in the summer months.
Coming in from that heat it certainly felt cold inside.
I'm a reasonable but cautious skater. I go slowly and try not to fall over because I'm terrified of breaking my brittle old bones. Still I was hoping that after a few circuits round the rink I'd start to warm up a bit. It was not to be so I spent two hours with goosebumps convincing myself that I'd warm up any moment.
The ice-rink played music and videos by bands like One Direction who I've heard of but never actually heard their music before. My mind wandered to natural ice-skating settings, dreaming of skating outdoors or on the canals of Holland where you could ice-skate for miles, not just potter round in little circles. Despite that we had fun.
I didn't get much exercise and I forgot my heart-rate monitor but if you're looking for some gentle exercise, something different and a fun activity you can enjoy with friends or family then ice-skating works. Just make sure you wrap up warm.
Ice-Skating Exercise Review
Cost: $42 – for one adult and three kids including skate hire.
Time Exercising: 2 hour session although some of that time was spent squeezing into our ice-skates.
Average Heart Rate: Sorry, I forgot to wear the heart monitor but this was very gentle exercise. Like a slow walk.
Calories Burned: 2oo cals– I'm guessing – a bit better than being sedentary.
Fun Factor: 7/10 – It's fun if you go with other people.
Fear Factor: 7/10 – This was a family crowd all going slowly so not too much chance of any horrible accidents.
Post-exercise Glow: 6/10
Have you ever been ice-skating?
Share This Story, Choose Your Platform!