52 Exercises: #14 Boxercise to Find Your Inner Strength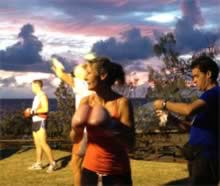 It takes strength to get up at 5am but I make the effort to get to boxercise class at the beach for 5.30am.
The sky is dark, livid and bruised. I feel a bit like that myself and tired too. So tired. Yet also victorious because I'm here and I'm happy a new day is dawning.
I've been to this class before and boxercise feels like my dirty little secret. When I go to boxercise my inner hippy shuffles off to a corner to meditate while I throw punches as hard and fast as I can. Which is not very hard or fast at all compared to the other the people in the class.
Unlike me, the fitness imposter, I'm sure they are the type of people that pay rugby, run marathons and compete in Iron Men events for fun. Unlike me, whose eyes are sleepy and swollen, they seem to be wide awake, already engaging in happy camaraderie, constantly gibing and joking with each other.
I can't even laugh, let alone make a joke, but it feels good to be surrounded by people who can do both.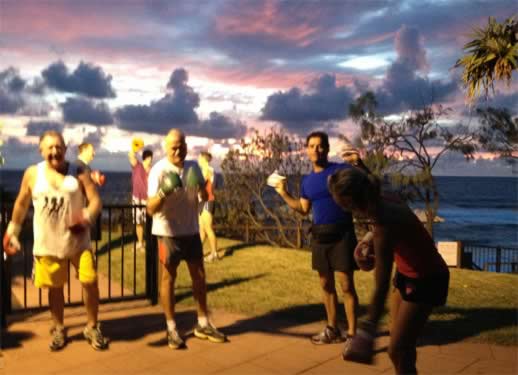 Scott our cheerful leader runs through routines and keeps us focused: 50 punches, 50 single jabs, 50 uppercuts and 50 hooks. We do that three times then he says we're warmed up. That's not a joke, it really was just the beginning.
The class is exhausting and the boxing starts to get more complicated from then on. Jab, jab, jab, cross, jab, hook, hook. Run back, squat, run forwards, squat. Now do that three more times.
But wait, there's more, this time interspersed with stair runs, push ups and what Scott calls a 'hover rest'. It's a basic plank where you rest on your elbows and toes keeping your torso in a straight line. Sounds easy until you try it and definitely not restful at all.
I can just about keep up with the punching routines and squats but it all falls apart on the stair runs and push ups. I lag behind on the steps, don't go right to the bottom and do the push ups on my knees. I feel good about cheating because I want to toughen up a bit, not kill myself. Just being here is enough. I don't have anything else to prove except that I can show up.
Later on my arms feel shaky and  my shoulders ache even though we did some stretching at the end of the class. I feel weak but I know I'm getting stronger. My inner strength may be running low but my body strength and fitness levels have never been higher.
I might feel tired and old but that inner strength is hiding under the surface. Maybe life is too easy for me right now so my inner strength is lying low, saving itself for days when I'll need it more.
That inner strength is still there. That strong woman who can do anything, go anywhere and be counted on any-time is still inside me somewhere and one day we'll be reunited.
Until then working on my outer strength seems like the only thing to do.
And maybe showing you this inner weakness is a sign of strength.
I don' t know about that for sure but I know I can run further, punch harder and squat lower these days.
For now that's all that really matters. For now that's what I'm doing and for now that's good enough.
—————————————————————————————————–
Boxercise Exercise Review
Cost: $10. Boxercise classes with Scott Braby are every Wednesday at Sunshine Beach Surf Club at 5.30am. Get there five minutes early and meet the gang in the car park or walk around the back of the surf club – the workouts are held on a grassy patch overlooking the beach. Scott organises other fitness classes on Tuesday and Thursday mornings too – same time, same place – so drop him an email if you live in Noosa or are visiting and want to join a fast-paced, fun, friendly fitness class.
Time Exercising: One hour
Average Heart Rate: 113 bpm but felt like a lot higher.
Peak Heart Rate: 170 bpm but felt like a lot higher.
Fun Factor: 7/10
Fear Factor: 4/10
Post-exercise Glow: 8/10.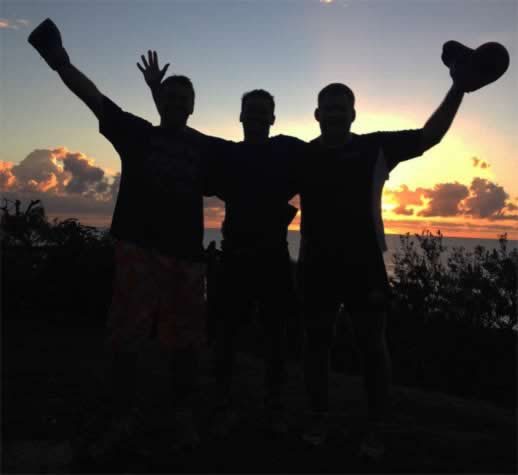 —————————————————————————————————–
Thank You for Reading
If you're enjoying Get In the Hot Spot and the 52 Exercises series check out more from the 52 Exercise quest here and take a moment to share this post on Facebook, Twitter, by email or wherever you please. Thank you.
Get the weekly newsletter – If you'd like email updates from Get In the Hot Spot click here to subscribe now. You won't get an email every time I update the blog but I'll email you weekly with the best stories.
Let's stay in touch – I'd love if you circle me on Google+. Thank you.
Share This Story, Choose Your Platform!