5 Tricks For Getting People To Say Yes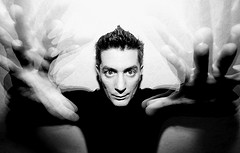 Is persuading people to do what you want them to an art or a science?
The authors of Yes! 50 Secrets from the science of persuasion call it a science but I think it's an art too ~ there must be plenty of room for creativity.
But is it ethical to try to get people to do what you want them to do?
As long as you have other people's best interests at heart.
Assuming the vast majority of us aren't out to rip off, cheat or hoodwink other people, most of us could benefit from honing our powers of persuasion. It might be maniplative but I that doesn't matter as long as your reasons for wanting someone to say yes to your ideas will benefit both of you.
Who wants to be more persuasive?
Most of us could gain from expanding our powers of persuasion, especially:
Business people
If you run your own business you need to know how to sell your products or services. You actually need to be able to sell yourself to your clients and convince them that you're the best person to do business with.
Employees
If you'd like to negotiate with your boss for a pay rise, better working conditions, part-time work or working from home, then it's handy to know the best way to present it to him or her so you get the go ahead.
Job seekers
If you're writing job appication letters and resumes or want to know how to win over your interviewer face to face.
Parents
Any parent who's ever wondered how they can get their kids to turn off the tv when asked, get ready for school or write a thank you letter will appreciate how handy persuasive powers could be.
Bloggers
Some of you may fall into more than one of these groups. I seem to fall into most of them.
Here are five useful tips from Yes!: 50 secrets from the science of persuasion. I've included examples of how they could be used in specific situations but I think we need to get creative with them. Have a think about it and work out how you can adapt them to make the most of your particular situation.
5 Tricks For Getting People To Say Yes
1. Enlist the mob mentality
People like to do what other people do. We all like to think we follow our own path in life but the herd mentality is powerful. If we see something is popular with the masses we tend to want a piece of the action too.
Ideas for applying this: Business owners – If you already have 650 happy customers telling your leads about your sizeable clientbase could help win their business.
2. Let people know they're getting a good deal
Let people know how following your suggestion will help them too.
Ideas for applying this: Parents – If you're struggling to get your kids out of the house in the mornings reward them for getting on with it by offering a reward on Fridays – a tuck shop lunch, computer time at the weekend or a free pass to the movies should do the trick. Is it bribery and corruption? Maybe but if it works and keeps you sane I think it's a valid way to help your kids get into good habits.
I wouldn't pay my kids to behave as I'd like them to but don't have a problem with encouraging them to behave well by withholding things they love it they don't.
3. Fear is a great motivator
You may feel bad using this one but if it convinces people and what you tell them is true there's no harm. Most importantly, you have to find a solution to the their fear.
Ideas for applying this: Employees – Let's say you want to work from home. To begin with come up with something your boss might be scared of if she doesn't agree, for example, losing your valued employment, losing customers, reduced productivity or higher expenses. Then subtley think of a way to introduce the idea as something that could happen if they don't trial your working from home one day a week.
After a few months of one day during which you show that you work better from home you can ask for it to be increased to more days a week.
4. Don't ask for too much
Sometimes the best approach is to ask for something small to begin with then when you've built up a trusting relationship you can try asking for more.
Ideas for applying this: Job seekers – Let's say you're looking for a mentor. Don't bombard them or ask for too much. Send a short email with one question or ask them face to face and emphasise that just one minute of their time will help. If you get that then you can try the same tactic the next week. With luck and respect you might be able to build up an ongoing relationship with them.
5. Explain why
This is simple and effective. Use the word because to explain why you want the person to follow your request.
Ideas for applying this: Bloggers – Tell your readers that you'd like them to subscribe to the RSS feed or get email updates because then they won't miss out on your blog updates and because you're trying to grow your readership.
You might also want to explain that you'd love it if they stumble or tweet your posts with the tools below because that also helps you get more readers And that you'd enjoy it if they leave a comment because you love getting feedback:)
Seriously! Please share any tips
It's ironic that I had this post scheduled for today because this morning I had a terrible battle with my five year old daughter. Her normal school shoes were wet so she had to wear another pair she hates. This resulted in about 45 minutes of her crying and tearing off the offending foot wear. Most of in front of a large audience at school and during a torrential downpour.
I tried to persuade her it wasn't that bad. That is was only for one day. That a lot of the other kids wore those shoes. That at least she had a spare pair or she would have had to go round with soggy feet all day. That no one would notice the shoes if she calmed down. That tomorrow her other shoes would be dry.
Nothing worked.
I guess sometimes you just have to accept defeat and accept that no amount of persuasion will sway some people.
Want more ideas?
If you like these tips and they've whetted your appetite you might want to buy the book now on Amazon or borrow it from your local library.
Find out more about or buy Yes! 50 Secrets from the science of persuasion.
Thank You For Reading
A warm welcome to Zen Habits readers who've come here after seeing my guest post 5 Ways To Travel More With Less and to all the new subscribers who came here via my guest post on Dumb Little Man, How To Never Get Into Fincancial Difficulties.
And of course a big welcome back to the old faithfuls.
I really appreciate your visit.
Related Posts
>> 10 Things To Be Grateful For and Why You Should Be
>> The Secret of Eternal Youth
>> 10 Ways To Get The Life You Want
>> 3 keys To Living Our Dreams
Photo credit: Mastro Biggo.
Share This Story, Choose Your Platform!