5 Small Ways to Unclutter Every Day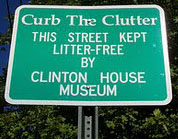 Guest post by Matt Madeiro
You know, if I could meet those nameless villains who robbed my home about six months back, I'd probably say this: "Thanks for robbing me. Jerks."
In all seriousness, though, I'm not so sad that they did. I'm not looking for an encore, sure, but I can't deny the surprise benefits of coming home one day and finding my house in shambles. I lost some pretty expensive toys, but less than 24 hours without them drove home a pretty incredible point: I didn't need them anyway. I didn't need any of that stuff suffocating my floor, the clutter in every corner that demanded valuable time to organize and keep tidy. So I dumped the stuff bit by bit and haven't looked back since. And you know what? I've never been happier to be living a simpler, cleaner life.
Sounds pretty wonderful, right? Here are a few steps to get you started.
1. Keep track of what you use (and what you don't!)
[tweetmeme]Easy, breezy, and the most important step of all:
make a list of what you use.
Break out the pen and paper at the start of the day and keep it close as you go about your daily routine. Every time you use something in your home, make note of it, and continue this process for the rest of the week.
Sounds like a lot of work, doesn't it? But there's a method to the madness, one made apparent when you make the official tally at the end. Those items near the top of the list? You can keep those. Everything else needs to go. The hardest part of decluttering is admitting what can be tossed, especially when our inner voice likes to sabotage the process. It's human nature to think "I'll use this someday," but let's be honest here: you probably won't. You're going to shove that item in a drawer and probably never see it again.
Cut everything you can. Refer to the list when necessary and don't let that little voice change your mind.
2. Don't get so sentimental!
Keepsakes, those lovely little icons of bygone years, don't like your list. They especially don't like any threats to their survival, and will invoke all sorts of fuzzy feelings should you consider dumping them. That's the natural reaction, unfortunately, which might explain why the keepsakes stuck around longest whenever I was tearing through my room.
Here's the thing: the best memories are those that linger even without an accompany object. The memories that flood in every time you start digging through dusty boxes are precious too, but not at the expense of the clutter they bring to your home. Those big stacks of boxes are easily the worst offenders, a constant clutter that travels with you from home to home and expands as the years go by.
Dump the keepsakes. But don't fret! You don't have to be completely heartless when you do it. Grab your digital camera, crack open those boxes of memories, and let's get to work. Take a picture of each item that you still feel tempted to keep – one photo a day. That'd be a lot of photography all together, and emptying out those boxes in the attic will take far more time – and willpower – than you'd probably expect. Transfer those keepsake photos to your computer, rename each photo after its respective item, and open up a new text document in that same folder. For every picture, write down that exact memory you associate with it in as much detail as you can. Problem solved!
Let's be honest: you don't need the physical keepsake itself. The real value is in the memory attached to it, so a good photo of that object will give you best of both worlds. And, should your head ever get fuzzy, that text document will be ready to remind you of why you were so determined to keep the keepsake in the first place.
3. Recycle, Freecycle, and make the world a happier place
I should be clearer: dump the stuff in an eco-friendly way. Don't immediately send your clutter to the trash, as that benefits no one and is like making a rude gesture at mother Earth. If you're determined to sell your stuff, the usual suspects apply: EBay, Craigslist, garage sale etc. If you're just looking to get rid of it, however, a plethora of options await.
Recycling is self-explanatory, but also unfortunately very dependent on your area. Recycle everything you can, but don't just trash everything else. There's a nifty site called Freecycle where you can just give your clutter away for free. I used it pretty religiously in the first few weeks after the robbery, as it's an amazing resource for that exact stuff you thought nobody would ever want to own. Losing a computer monitor and being left with just a big bag of computer cords? Not awesome. Posting that big bag of stuff up on Freecycle and having someone offer to grab it within a week? Awesome.
Why not sign up today? Joining is free, naturally, and the process of offering up your stuff is as easy as can be. If you're intent on using it, try and offer up something today – something you're convinced no one will want, something you're convinced that you'll just have to trash. I can't guarantee someone will take it, but I can promise you'll feel a lot better trying to let someone else claim it before the trash can does.
4. Embrace technology…sometimes.
As much as I love a good piece of technology, digital entertainment can get pretty exhausting. How many CDs do you own? Better yet, how many DVDs are stacked high beside your TV? Digital clutter can be some of the hardest to downsize, especially when you remember how many coins those tiny little discs cost in the first place. Movies are expensive, but still we snatch them up, watch them once, and then rush on to the next release.
Think about it. How many times have you sat down and pulled a DVD from your collection? I'm more likely to skip through television channels than ever sit down for a full film, which made my huge collection of DVDs just a teensy bit pointless. So what to do with those discs? Technology, for all of its faults, can also prove pretty useful. The ability to rip music from CDs and store it on your computer is readily available, and the software to rip the movie off a DVD is a viable option for someone looking to sell the disc. Media stored this way occupies space on your computer but nowhere else, letting you downsize your digital collection with a smile.
That big stack of CDs on your desk? Yeah. I have one too. Starting today, take the top three discs and start moving the files to your hard drive. The entire stack will take time, but a day-by-day approach is a guaranteed way to win.
5. Rethink the when and why of what you buy!
Eliminating the clutter from your life is a massive task, so don't stress yourself – take it slow, steady, one day at a time. If that's not enough progress for you, there's another change you can incorporate from the start: change your perspective on purchases. Easier said than done, right? Modern society stresses buy, buy, buy, but breaking out of that consumerist mindset is hands-down one of the most important things you can do.
Want to keep your home as simple and clean as they day you finally clean it out? Stop buying. Modern marketing is clever enough to convince you that you need that new thing right this instant, but resist temptation with a strong smile. Buy what you need when you need it, but realize that you don't need much in the first place. You need food, family, shelter and friends, only one of which can be found at the market. That's lofty and philosophical, sure, but you can still implement this policy in your day-to-day activities.
Rent movies. Buy music online. Admit that you really don't need new clothes. Decluttering your life and home doesn't require giving up your favorite toys, but it does encourage you to spend your hard-earned cash on people, memories, and experiences – the best parts of life, all of which aren't so easily stolen.
I learned that the hard way. Follow any of these steps, though, and you're already ahead of the game!
Matt Madeiro is a writer, traveler, and absolutely terrible at describing himself. When not writing about self-improvement at his regular home, Three New Leaves, he likes to lurk on Twitter, engaging in passionate discussions with the few people who actually read these bio things and click the pretty links.[tweetmeme]
Share This Story, Choose Your Platform!