4,561 Quick Ways to Look HOT All Day, Every Day

Before heading to BlogWorld, I delved into the sordid world of shameless self-promotion. Why? Mainly because I'm not good at it and it scares me. You see, I work hard to promote my blog and do stuff that scares me, so practicing the fine art of shameless self-promotion seemed like a good way to combine those two things.
No more shrinking violets for me. I decided to be BIG, bold and b-r-a-n-d-e-d. I decided to get some Get In the Hot Spot t-shirts made and here I am sporting one.
Like anything, from naming my kids, to deciding if it would be better to use if or whether in this sentence, an agonising and lengthy decision-making process ensued. This is clearly a mental health issue, but I don't let it hold me back.
Luckily, I invested in a hot logo for my hot blog, so that was all ready to roll, but I also wanted the t-shirts to be cheeky because life should be fun. Obviously the t-shirts needed words as well as the logo. I ruled out the "Empowering Tips for Life and Work" slogan as too serious and, after much hair-pulling, scribbling and brainstorming, finally decided to run with Seriously HOT Tips.
Seriously HOT Tips has a curious play on words, it achieves just the right degree of irreverance, it makes the wearer look and sound cool and it leaves plenty of room for discussion, innuendos and laughs. It professed to be serious when it was clearly not. Perfect.
I also made a t-shirt design  emblazoned only with Seriously HOT just in case anyone didn't want Seriously HOT Tips written in giant letters on their (ahem) chest. I hope nothing is lost on translation here for my friends in the USA, Canada or anywhere else for that matter. Just in case, let me mention that I fully understand some people will substitute Tits for Tips if their sordid imagination takes them down that path. There, I said it. It's just the kind of juvenile prank that amuses me as I teeter into middle age.
A Groovey Gift Idea For Special People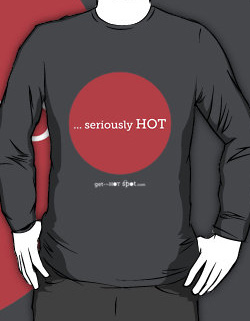 Now, due to popular demand, the t-shirts are for sale. Perfect for you and your loved ones as gifts for the silly season and easy to buy online right now.
Where can I get them?
If these t-shirts sound like fun you can buy one, two or more at RedBubble who will kindly print our the design of your choice and, for a small fee, send it to any address, anywhere in the world.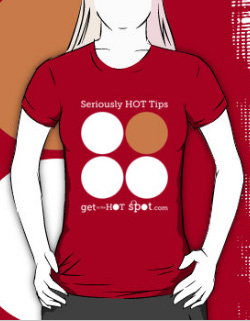 Who will they suit?
I like RedBubble. I don't suppose Gap need to get worried but I could get all my t-shirts there. You choose a style, color and design of your choice and that's it. So they suit anyone and everyone. They even make them for babies.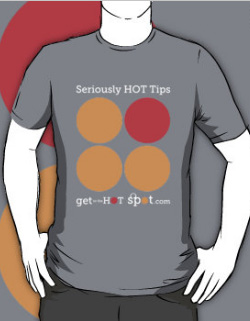 How do I order?
Go to RedBubble. Choose a design (one spot or four spots), slogan (Seriously HOT or Seriously HOT Tips), color ( I love the greys and orange, red's good for extroverts), style (round neck, v-neck, long or short sleeve, lady style, man style or hoodie if it's chilly where you are) and size (from XS to XXXL). You'll get a preview of the shirt before you buy. There's a lot of choice, that's how I came up with the 4,561 Ways to Look HOT headline – 8 designs x 19 colors x 5 styles x 6 sizes – plus one for luck.
Are they good quality?
Yes. The t-shirts are all 100% cotton American Apparel brand. I've road tested them for you with daily wearings and washings over the last two months and the design sticks. Anyway, there's a full guarantee.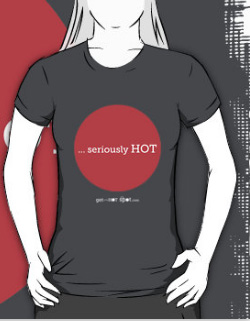 How much are they?
The t-shirts are under $25 so you should be able to get one delivered to you for under or around $30, even if you live in the back of beyond. Plus RedBubble have a special deal so if you buy four shirts postage is free. A lovely bonus if you want to get Seriously HOT t-shirts for all your hot family and friends.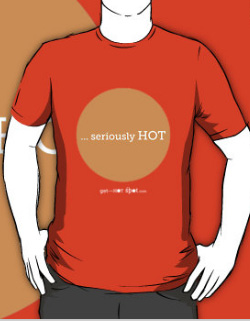 Why would I buy one?
Because you like them. Plus it's a good deal for a t-shirt which makes you look cool and tells the world you're hot. I get a teeny tiny cut but best of all I get the thrill of knowing you like my blog and t-shirts so you will make me a happy camper too. If you send me a photo of you in it I'll be even more thrilled and upload all the pics to my Facebook page or maybe add a special page to the blog. That would be a fun project.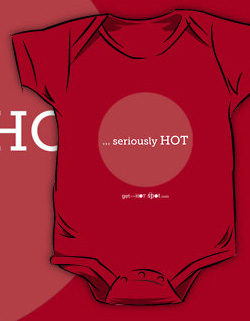 Why don't you use pressure tactics and say this special deal is ending soon?
There is no deadline and no pressure. If you like them and buy one I'll be thrilled and they'll probably be on sale for a while. But if you want them in time for Christmas you should order by December 9th.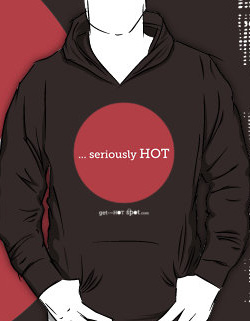 Do you really think you're hot?
Sometimes. Or as hot as you can look when you're a 42 year old mother of three. But mainly the t-shirts make people smile and I'd prefer to raise a smile than raise temperatures. Lucky really.
Get Your Sticky Paws on My HOT Tips Now
Where did you say I can buy one?
RedBubble. You should check it out anyway. It's full or arty people doing creative things with heaps of t-shirts that will make you look as unique, quirky and interesting as you are. And just imagine how happy your loved ones will be to get a t-shirt saying they're Seriously HOT! I can't wait to see the photos.
Click here to check out RedBubble and buy some hot t-shirts now.
Share This Story, Choose Your Platform!