Top 10 Fabulous and Free Things to Do in New York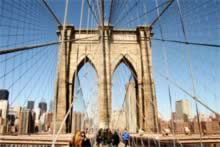 i love new york
I believe clichés become so only because they grow out of an accepted and common truth or belief.
Sometimes real things, places or people become clichés of themselves. They are the cliché. New York is a prime example. And why I love that crazy city so much.
Let me explain.
Think about it – if you've grown up watching Hollywood movies, and now television series, you've probably subconsciously formed an opinion of one the entertainment world's favorite settings – NYC.
Whether it's the dirty, dangerous streets of 1970s Harlem; or the hip, sophisticated cafés and brownstones of 1990s-2000s Upper East Side — though you may have never been there, you probably feel like you've been there. Like you know it.
And in a way you do. Because what I found when I started going there fairly frequently is that New York can only be captured in slivers: a moment feeding ducks in Central Park. A moment wandering through the unique artisan stalls and boutiques in SoHo. Standing up while you eat the best pizza you've ever had in the smallest restaurant you've ever been to. The dancing Statue of Liberty next to the Wall Street bull. That dog walker who must have had 20 dogs leashed to her. Dana Carvey, exiting a Park Avenue apartment building with a paparazzi swarm — just as you crossed under the awning…that amazing skater in Rockefeller center.
Sound like the New York you know from movies and TV? Yes? Sound like I am merely reinforcing a cliché?
Once day, I was far from my hotel, wandering the streets blissfully alone, and I decided to get lost on purpose. To meander in the vague direction of my Grand Central Station hotel, but let the streets take me where they would. For a while, the gray concrete canyon seemed endless when, quite suddenly, color exploded everywhere. Storefront upon storefront spilled over with rainbows of bright ribbons, cloth, feathers, beads and sequins – a gaudy, garish feast for the senses. I was in the famed Garment District.
I kept walking. Within blocks, the displays slowly lost their color. But, oh, how they sparkled and glittered. Bullet-proof window after window I drooled over diamonds and gems, in loose piles or interesting settings. Ahh, the Diamond District.
That is why I love it so. All those wonderful moments, that gorgeous chaos that you can't possibly take in all at once – that's New York.
It is unknowable by any one person — even the people who live there feel like tourists to me. This sleepless, naked, ever-changing city that, around every corner, holds something astonishing. Or at the very least, interesting.
And isn't that how it's portrayed in TV and film cliché? You bet. That's why you know it as well as I do. As well as anyone can if they're paying attention.
My Top Ten Favorite (Somewhat) Out of the Ordinary, Completely Free Things To Do in NYC:
1. The Chrysler Building: Duck into this Art Deco treasure for a moment and absorb the beautifully maintained '30s vibe, complete with Diego Rivera-like murals, inlaid marble floors and ornate elevator trim.
2. Staten Island Ferry: Climb aboard (and stay on board for the return) and get some of the best views of the Statue of Liberty and Manhattan money can't buy.
3. The Brooklyn Bridge: Take a walk across this stately, architectural marvel (one of the first suspension bridges in the world) that joins Manhattan with Brooklyn.
4. SoHo and Chelsea: If you're into art and artistic things, these neighborhoods are filled with lots of eye-candy. While some art galleries require appointments, many are open to the public.
5. Central Park (of course): Not exactly out of the ordinary, but it is not to be missed. The Castle, the boat pond and the zoo will all feel strangely familiar.
6. Grand Central Station: It truly is grand, buzzing with activity and you'll immediately recognize it.
7. The M&M Store, Times Square: Even if you don't have kids, with giant, clear tubes of those little yummies this crazy, colorful candy-filled store is fun to stop into…if you must go to Times Square.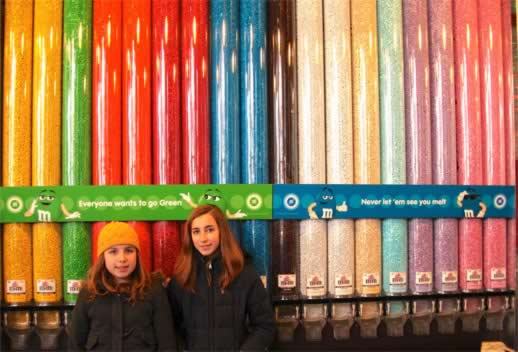 8. The W Hotel Bar, Times Square: No, it's not free if you buy a drink, but it's a great place to duck out of the crowds if you want to avoid the more touristy, cheesy drinking and dining establishments.
9. The Highline: Okay, I haven't been on it, but this elevated, green trail above Manhattan's West side (built on former freight rail lines) is supposed to be amazing.
10. Just wander: As I mentioned above it's a great way to discover your own little New York gems, hidden in plain sight.
Guest post by Molly Kelash
Molly Kelash is a freelance writer living in Minneapolis, Minnesota with her husband and two teenage daughters. She has lived in five countries, speaks passable French and enjoys traveling as much as time and finances will allow. Her blog Seriously is an eclectic mix of essays on whatever the hell she feels like writing.
Molly is also the co-creator of the mobile app TeenSphere that helps teens and their parents understand and deal with common and more serious issues they face in life.  TeenSphere is available on iTunes and Google Play.
Editor's Note: Because of the demand I can only take guest posts from friends these days. Molly Kelash is a very dear and old friend who also happens to be one of the blogosphere's best kept secrets. So if you're looking for a good read check out her blog.
Thank you for reading
If you enjoy reading Get In the Hot Spot please take a moment to share this post on Facebook, Twitter, by email or any way you please with the buttons below. Thank you.
For free weekly email updates from Get In the Hot Spot click here to subscribe now.
Let's stay in touch on Google+. Thank you.
Share This Story, Choose Your Platform!