Ultrarunner for a Day: What it's Like Running 50k aged 50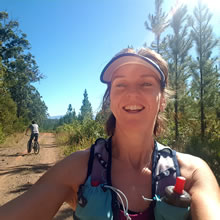 I'm pretty high energy but sometimes I wear myself out and that was certainly the case in May.
Since I'm 50 and always looking for a new challenge, I decided to sign up for an ultramarathon for a few silly reasons:
Ultrarunning sounds cool;
I wanted to be an ultrarunner because I thought that would make me sound cool;
After running a half marathon (21 kilometres or 13 miles) and finding it exhausting, I decided it would be better to run further but more slowly;
I avoid running on roads and big crowds – unless it's a very special place or occasion;
I want to spend more time in nature.
What's an ultramarathon?
A regular marathon is 42 kilometres (26 miles) and an ultramarathon is anything longer than that. Generally, ultramarathons start at around 50k and up from there, with some races lasting days on end and all through the night too. That's not for me.
Naturally, I picked the shortest distance (50k or 31 miles) for my first ultramarathon. I wanted to complete the distance and not kill myself.
Cook's Tour Ultramarathon
I picked the Cook's Tour ultramarathon which is part of the Glass House Mountains series because I don't know that area well and it's close to home.
Training
I didn't want to train too much as I knew it would be boring and painful doing lots of long training runs so I decided on a ridiculously short (for ultrarunning) training program of eight weeks. Honestly, that was quite long enough.
During that time, I did three 30k training runs and lots of shorter ones, including a couple of 25k runs. For you non-runners, it's common for marathoners and ultrarunners to never run the full distance in training. Probably because it's exhausting and wipes you out for a month afterwards as I would shortly discover.
I was very lucky to find a friend to join me on those 30k runs who's a highly experienced ultrarunner (having run the Comrades Ultramarathon in South Africa multiple times) and a real chatterbox. That forced me to run the long distances in training and took my mind off things when it started to suck. Which it does.
Bring on the stress!
In addition to training for the ultramarathon, I also had my mum to stay for a couple of weeks. Plus I was in the throes of completing my Masters in Education including the final thesis and a course in child abuse and neglect. Pretty heavy stuff.
In my mind, the training was stress relief and the event gave me something to look forward to but in fact, it created additional stress.
That probably won't come as much as a surprise to you but it's common for me, in stressful times, to take on more things and add even more stress. I literally get so stressed out that I can't think straight and make silly choices which in retrospect are clearly idiotic.
Logistics
Not only did I have to train for the event but I also had to work out how to get there (for a 6 am start), how not to get lost on the run and how to carry enough water and food to fuel me for 50k.
Equipment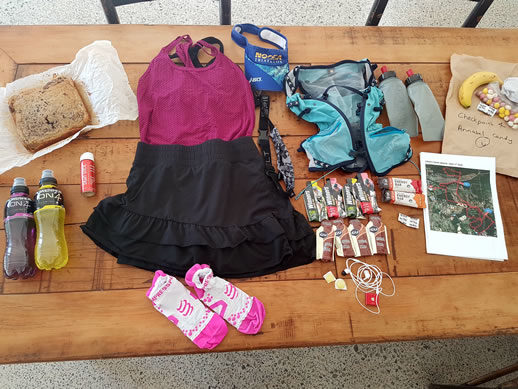 I also needed some special  equipment including:
A running vest to carry food and water – Ultimate Direction Ultra Vesta 4.0 Women's Running Vest $179;
Water bladder to carry 2 litres of water in the back of the vest –  Osprey Hydraulics LT 1.5L Hydration Bladder $31;
Anti-Chafe ointment to prevent sores – Skin Slick Anti-Chafe & Blister Skin Spray $19.
Then I convinced myself that there were a few more things I needed, although I ended up not using them. Let's not talk about how expensive this whole business was.
Hiking poles – Black Diamond Distance Carbon Z-Pole Trekking Poles – 120cm – Large $159;
Headlamp – Petzl MYO 370 Lumens Head Lamp $133;
Survival Blanket – AMK Nano Heat Survival Blanket $66 – I know, more silliness but I am terrified of the cold.
So there was a bit of financial stress too, although Mum helped by getting me some things for my 5oth birthday, even though she did not approve of my ultrarunning goals at all.
Other expenses
Just as an FYI in case you're thinking of dabbling in ultrarunning:
Why do people do it?
Honestly, I have no idea. It's impossible to explain why I spent so much time and money on something that created a lot of stress and knocked me off my feet mentally and physically for a month.
Ultramarathon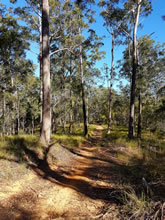 The big day dawned bright and sunny. Not at 6am though. It was pitch dark then, but I felt very excited to join the little group of about 100 runners and set off.
I'd carefully planned my tactics knowing how important race strategy is from my triathlon experiences. I was originally planning to run 2k and walk 2 minutes until I got to the end.
But a few weeks beforehand that approach started to feel rather complicated so I decided to just run at my slow pace for as long as I could. I knew from training that I could run 30k nonstop and was hoping that I'd just be able to carry on running for another 20k. Another silly mistake.
Fuel wise I was solid though. I planned to eat 100 calories every 30 minutes and that's exactly what I did, guzzling calories on the run in the form of energy gels, energy bars, energy drinks and chocolate mini eggs left over from Easter.
Here's the race breakdown:
Breakfast and Nutrition
I drank an energy drink the day before to boost my electrolytes.
On the big day I woke up at 2am (accidentally) and ate an enormous slice of banana and oat cake (sugar and wheat free) to fuel me for the run. It's good to eat a big breakfast and ideally three hours before the run so that worked out quite well.
When I got up properly at 5am I ate a banana and started sipping another energy drink.
Basically, you can't eat as much energy as you burn during these long runs so you have to eat early and regularly or you'll crash and burn.
0-20 kilometres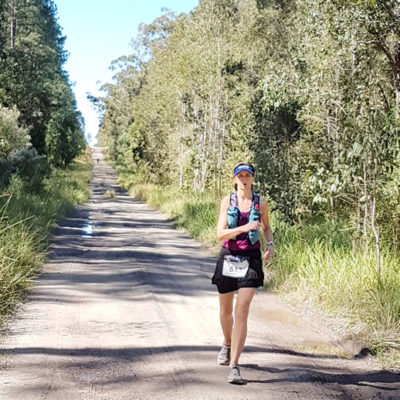 I hooked up with a couple of other runners and we had a great time chatting and running for the first 20 kilometres which were relatively flat and cool since it was so early in the morning.
One of them (hello Mike!) was a 59-year-old man running his 75th marathon. What a legend. I knew he was exactly what I needed to keep me running and was stoked to have found someone so experienced to run with.
20-40 kilometres
However, Mike was rocking the run/walk strategy which I'd planned on but wasn't doing. Around the 18k mark, we lost our running buddy (Simon-the-soldier) but Mike and I were still together. He'd stop and walk every now and then, while I ran on. Then he'd catch up with me again when he started running.
But at a certain point, he didn't catch back up with me and I carried. So I ended up running 2o kilometres by myself and it was actually good for me to just focus on myself and be in the moment. Honestly, I really enjoyed the first 40k.
The course was quite challenging though, like a rollercoaster with lots of very steep, rocky hills which you couldn't run up or down.
But I felt pleased with my progress since I was sticking to my slow pace, eating regularly and feeling pretty good. I even overtook a couple of people including a young man and one woman who I hiked past on a particularly long, steep hill. Now there's a nice boost for the morale!
40-45 kilometres
By this time I was ready for the run to be over and believed it nearly was. But the last 10k seemed to last forever.
I was starting to get very sore (hips, back, legs, you name it!) and tired. Squatting in the bushes to pee was painful and around the 45k mark, I lost my sense of humour. Completely.
45-50 kilometres
Rich found me and cycled alongside me on his mountain bike but I was in a bad mood. He tried to encourage me but nothing could have helped at that stage except a stretcher. Although I did try to distract myself by smiling and pretending I was having a good time.
I was over it though. If I thought I could have sat on the bike and pushed the pedals I would have pushed Rich off it cycled back to the car. If there had been any other way to get back to our car apart from walking (or running), I would have taken it.
I kept trying to get Rich to leave me alone since I realised I was bad company, but he just stuck around. I asked him to keep an eye out for the woman in pink knee socks who I'd overtaken earlier because I didn't want her to overtake me again.
But a couple of guys were catching up with me and one of them was Mike who was still trotting/walking and smiling.
"Come on," he said as he came by my side. "You're nearly there now."
I so wanted to keep up with him and finish with him but I could not.
Moans of pain were escaping me and I was having flashbacks to childbirth. FYI I have birthed a 5 kilo (11lb) baby at home with no painkillers which should give you ladies some idea of how much my body was aching.
My hips hurt so much. I was turning into the proverbial whinging Pom.
"She catching up with you," Rich said.
"Really?"
I tried to run a few steps and not moan out loud. I thought Rich was just trying to motivate me and get me moving.
"Yes, she's only a couple of hundred meters behind you now!"
"You're kidding?!"
"I'm not!"
I looked around and pink socks woman really was just behind me. I gathered all my energy and ran on. She fell behind. Mike carried on pulling ahead.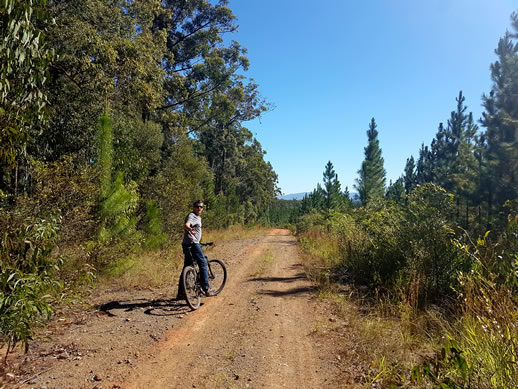 At 48k, I cried. I had my sunglasses on and Rich didn't notice.
Finally, I persuaded him to cycle off and get my bag out of the car so I could have a shower as soon as I finished the bloody run. If I was going to have a meltdown, I preferred it not to be in front of my husband.
I managed to run a bit more which was lucky as I spotted two friends who had come to support me. I smiled valiantly and ran by trying to act like I was enjoying myself.
But as I approached the finish line and could see no one was going to pass me I started walking. I could not be bothered to even pretend to run anymore.
No one took my finisher pic but the organisers called me over and let me choose a finishers mug. Yes, really, they give you a mug.
Then later a man wandered over holding a medal saying:
"I've got to give you this."
"Why?" I asked.
"You came third out of the women," he said.
"Really?" I was delighted with that result, even though I would later find out there were only four women crazy enough to do the ultrarun.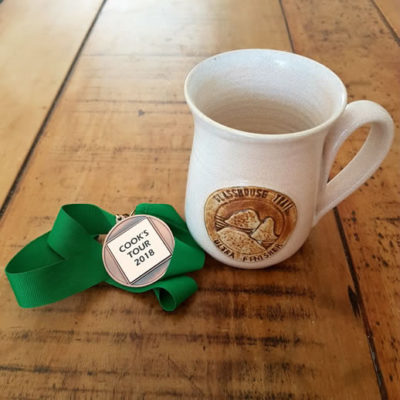 How long does it take to run 50k?
That depends on your fitness and the terrain.
It took me 6 hours, 38 minutes, but there's a cut off time of 9 hours so it could have been worse.
The fastest woman, aged 25 did it in 4 hours 40 minutes and the fastest man, aged 23, completed it in 3 hours 56 minutes. Unbelievable.
The aftermath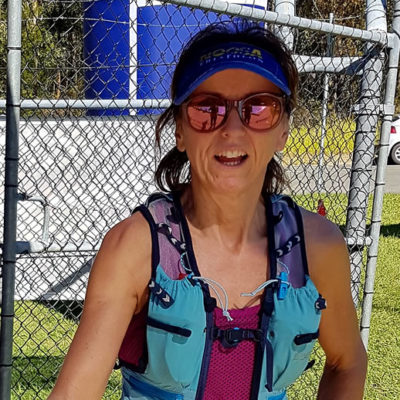 All I wanted to do was shower and stretch but the shower was cold and I was too self-conscious to stretch. So we ate a little lunch, including lots of cake for me, then hit the road.
Sitting in the car for 90 minutes is probably the worst thing you can do after running 50k.
My running friends urged me to have an ice bath when I got home but I could not take any more pain.
Everything ached for days and weeks afterwards. My hips were particularly sore and running or even walking up a slight hill was unpleasant.
So I ended up feeling blah and only exercising rarely and sporadically for five weeks. I didn't do much of anything although I did finish my Masters thesis and my Masters in Education course.
Five weeks recovery
I feel better now. After lots of rest and stretching my hips are recovering, although I'm still trying to take it easy and listen to my body instead of pushing it to these extremes.
The body and mind can do amazing things but it's not good to force the body to extremes or it will force you to take a break. That's what happened to me.
Still, at least I have a new medal (only my third) and a mug. And of course, bragging rights because, no matter how stupid it is, or how ardently I recommend you do not pursue it, I am an ultrarunner.
Have you ever done anything really silly?
Stay Tuned
Stay tuned for more travel stories, ideas and inspiration. Get free email updates from Get In the Hot Spot – a weekly injection of tips to help you be more adventurous and have more fun. Click here now for free updates.
Share This Story, Choose Your Platform!