What do you think of this genuine rasta hat I picked up in Zimbabwe?
It came without dreadlocks so it was much more wearable when I bought it but sadly it's not the kind of thing that looks good on a white woman. I knew that at the time but I just couldn't resist buying that hat. The red, gold and green stripes set off by black sang out at me.it was bright, zany and a little bit crazy. So much like my life in Zimbabwe.
I loved that hat and even though I never wore it I could never bear to part with it.
I hung onto it for 12 years and when we moved to New Zealand it was tucked safely into one of twenty boxes we shipped over there from the UK.
There it sat unused in a drawer until my first child was born and grew old enough to enjoy dressing up. It was the first item in our fancy dress box, so often tried on but never worn for long.
Until I added the dreadlocks that is, plaited out of some old wool from a second hand shop and hand sewn into the hat.
Once the dreads were in place my rasta hat took on a life of it's own. No one could resist trying it on and kids went wild for it.
When we moved to Central America I left my rasta man hat behind in New Zealand. I'm not sure where it is now but I'm glad I have the photo and the memories it connects, from my days as a young woman in Zimbabwe to my first experiences of motherhood and life in New Zealand.
Hopefully my Zimbabwean hat found a good home to go to and those rasta man vibrations are still traveling round the world spreading happiness wherever they go.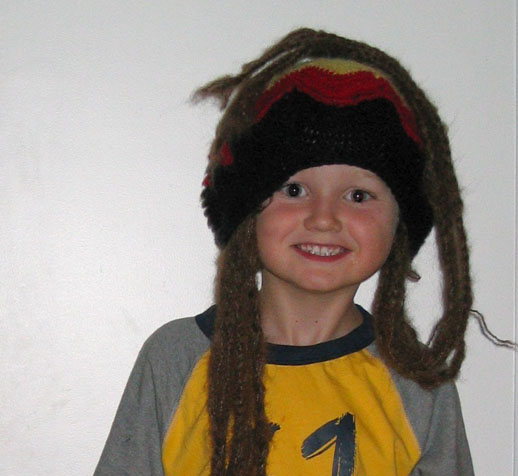 What's Photo Faves?
I'm thinking of adding a new series to Get In the Hot Spot featuring a weekly photo and short story to go with it called Photo Faves. Each week or month there'll be a new theme. What do you think?
Have you got a treasured travel souvenir? Can you share a photo of it?

Link Up So We Can All See It
Tell us about your travel souvenir in the comments or share your fave photo of a travel souvenir on your blog. If you link back here your post will get a link to it at the end of this post so everyone can check it out.