How to Face A Challenge You Think You're Not Up To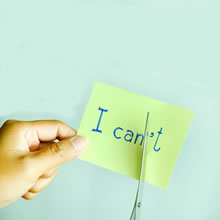 Does low confidence hold you back? Do you ever avoid something hard because you don't want to risk failing?
When you decide to take on a challenge you do it, even though you don't know if you'll ever succeed. All you know is that if you don't try you will fail by default.
Some of the challenges we set ourself are good – like hitch-hiking from Munich to London or making orange jelly from freshly squeezed oranges served with a dark chocolate sauce. They are achievable. But some challenges we set ourselves are stupid like leaving after dark and with limited time to make it home for your mum's surprise birthday party.
1. Work out why you're doing it
I was a conscientious child and always did my homework. In the car, on the way home from school if I could, then more, if there was any, on the white folding table in front of the TV. But I only really enjoyed writing an essay for English which was set every Friday.
2. Understand the true extent (and limitation) of your talent
There was always a topic. "A scary moment" or "someone who inspires me". I wrote them on Friday and handed them in on Monday. Later in the week, we'd get our essays back with a mark out of ten.
I never got less than seven, usually eight and occasionally even nine. But Ruth Harper, whose father was a policeman, a bobby on a bike in a little village and whose parents, my parents said, couldn't have much money but who sent their only daughter to Portland House School for Young Ladies with me, Ruth Harper regularly got ten out of ten.
Again and again she wrote perfect essays but mine were always had room for improvement. Always.
3. Learn that even failure can bring pleasure
Then we changed schools and I later heard that Ruth went on to become a secretary, which my parents wanted me to do too.
But I chose to carry on writing and keep trying to write the perfect essay. I wrote many things: my travel journal, university papers, theses, digital marketing proposals, web copy and sales copy.
I've written thousands of blog posts at Get In the Hot Spot over the last eight years. None of them have ever scored the perfect ten but the challenge of trying has brought me endless pleasure.
It's the same story with my triathlon challenge. The quest to achieve a certain result (such as sub threee hours for an Olympic distance triathlon, ten out of ten for an essay or to get a book published) creates stress and self-hatred while the act of training by swimming, riding a bike, running or writing brings joy.
Challenging yourself helps you shake up your life and feel more energised. Even failure will boost your confidence if you have a go and keep on trying.
Stay Tuned!
Get free email updates. For writing at the intersection of travel, fitness and positive ageing that'll help you stay more active, have more fun and be more adventurous.
Share This Story, Choose Your Platform!